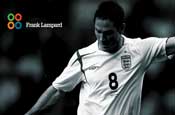 As well as sports stars, the poster ads showcase celebrities like Myleene Klass, Blue Peter presenter Konnie Huq and cartoon characters Charlie and Lola to target both primary and secondary school audiences.
By using sporting and celebrity role models, the campaign aims to link a
healthy approach to eating with a sporty lifestyle.
In one execution featuring Frank Lampard on the football pitch, a personal
quote from him says: "A healthy diet means I can be at the peak of fitness
for every game." Another more vibrant poster, aimed at primary school children features young pop group bell's boys, who say: "if we didn't eat well we'd run out of steam."
The campaign will appear nationwide later this month in school canteens to
encourage children to try healthier food options.
Project name: Celebrity Eats
Client: Chris Wainwright, head of communications, School Food Trust
Brief: to encourage primary and secondary school pupils to eat healthier through celebrity association.
Creative agency: The Lab
Copywriter: Adam Clyne
Art director: Greg Lappage
PhotographY: Combination of celebrities' own and Getty
Retouching: In-house
Exposure: School canteens across UK primary and secondary schools