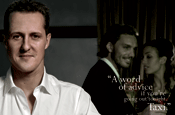 The seven-time Formula One champion has been appointed as the drink company's social responsibility ambassador.
The new campaign will run on TV and posters, aiming to discourage drink -driving.
The print campaign features different messages from Schumacher, including: "A word of advice if you are going out tonight. Taxi."
The TV campaign features 15 and 20 second spots, and will also show in cinemas and online.
Credits:Title/Project:
Corporate Social Responsibility Campaign - featuring Michael Schumacher
Creative Agency:
23red
Agency contact:
Rob Bartlett / Adam Wylie
Client:
Bacardi
Brief:
Promote Bacardi whilst encouraging responsible drinking for drivers.
Client name:
Chris Searle / Pascal Maiziere
Client job title:
External Affairs Director / Marketing Director
Copywriter:
Steve Chetham
Art director:
Sean Kinmont
Planner:
Carol Pinder
Media agency:
Universal McCann
Media planner:
n/a
Photographer:
Michel Comte
Retouching:
In-house
Production company:
Knucklehead
Exposure:
TV, press and poster advertising, as well as PR across