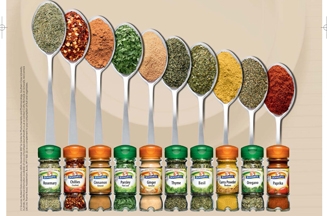 Until now, the marketing for the McCormick-owned range has focused on the taste of each herb and spice, with suggestions on how each can be used to enhance the flavours of dishes.
A print, digital and PR campaign entitled 'The Secrets of Spices' emphasises that Schwartz herbs and spices can also be used as part of a healthy balanced diet.
The £1.5m campaign, created by ad agency Grey Paris, focuses on 10 household favourite flavourings, including rosemary, cinnamon and thyme. The brand is also rolling out a dedicated micro-site, schwartzspicesandhealth.co.uk.
Schwartz will publicise that many of its products are rich in antioxidants, as well as more specific advice such as the fact that cinnamon can stimulate the respiratory and circulatory systems, and that basil has relaxant properties.
McCormick made a similar change in strategy in the US last year, promoting Schwartz as 'Super Spices'. The campaign will run initially in the UK and France.
In December, McCormick awarded its combined £7.5 million pan-European media planning and buying account to Starcom MediaVest Group.