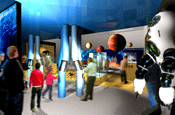 The attraction is looking for an agency to produce a singular print campaign aimed at families and encouraging them to visit the museum in the run up to the busy summer holiday period.
The museum classically splits its advertising into two sections - either advertising the main attraction as a destination or highlighting a specific exhibition, such as last year's work by Karmarma promoting the Antarctica exhibit.
The work showed images of children as explorers resplendent with snow covered beards and arctic-proof clothing.