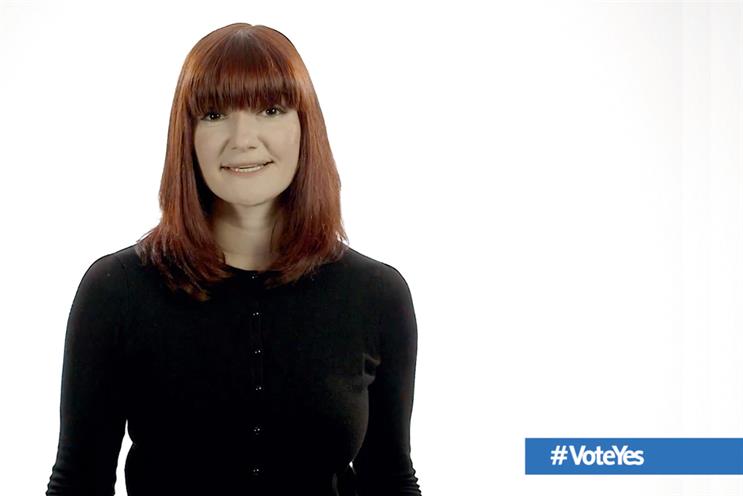 Yes Scotland
The main campaign for an independent Scotland is an alliance of the Scottish National Party, Scottish Green Party and Scottish Socialist Party, among others. Yes Scotland has released posters and two online films: "the choice", narrated by a young girl, who urges people to give her a positive future by voting for an independent Scotland; and "#VoteYes", featuring Scottish celebrities talking to camera about the benefits of independence. Andy Maas, a producer at Freak Films in Leith, created the "#VoteYes" film: "I wanted this film to empower people and envisage what life would be like after a 'yes' vote. The media seems to think the yes campaign is just Alex Salmond. We wanted to highlight the types of people who support the campaign."
What the creatives say
David Isaac, creative director, Family
A big no for the mixture of Scottish celebrities and ordinary folk set against a white background saying good things about independence, none of which I can remember, because it goes on and on.
The other offering, "the choice", with an idea, works really well – the future of Scotland, told through the eyes of a young girl. You actually listen to what she is saying and it is juxtaposed with images of nasty Westminster etc. A shame that it ended a bit "uplifty" happy-family, with clichéd music. I would have left it hanging and thoughtful.
Michael Hart, creative director, The Union
The contribution from the "#VoteYes" film's celebrities extends beyond funny wee doodles and hastily scribbled hashtags. The four-minute piece is stripped back and honest. Here, the celebrities talk. You feel this thing matters to them; they are in front of that camera because of a belief, not a gap in their shooting schedule. But "the choice" is a little heavy-handed. Scotland is presented in glorious colour, while London and Westminster are reduced to foreboding black and white – I think we're meant to boo and hiss. But, while it's twee and pedestrian, it does possess a sense of hope, which the no campaign consistently lacks.
Better Together
This is the main campaign to keep Scotland in the UK, with the MP Alistair Darling as its figurehead. The campaign slogan was recently changed from "better together" to "no thanks" (having previously worked with Grey and BD Network, Better Together appointed M&C Saatchi in June). The first press ads were launched in early June in Scottish newspapers, following the release of the "best of both worlds" cinema ad, created by BD Network, in May. Like the yes campaign, spending on marketing (including leaflets and admin) is capped at £1.5 million from the start of the official campaign period on 30 May. Better
Together's director of communications, Rob Shorthouse, says because money is so tight, the campaign has been "super-targeted" and has relied on generating free media – Better Together conducted research to find one million undecided voters. "These voters have been our focus. We released fairly limited outdoor ads only at sites near where they live, send direct mail only to them and concentrate on the media they read," he says.
What the creatives say
Isaac The film is similar in lines to the first from Yes Scotland but, this time, it's just young people. And they have a Scotland flag draped behind them. And they talk about stuff too. The only thing I remember is "the best of both worlds". Actually, I do remember some slo-mo cheesy cutaways. Thankfully, it's only 59 seconds – a fifth of the time for the people who like to say yes (a lot).
Hart Many agencies north of the border are reluctant to nail their colours to the mast for understandable reasons, so maybe that's why Better Together employed a London agency for the "no thanks" posters.
"No" is not the best starting point for any conversation. Adding "thanks" still doesn't stop it from being curt and impersonal. They should have led with the facts, not the abrasive hand-off. The "best of both worlds" cinema ad suffers from poor casting – the slo-mo does them no favours. Are these really the five best young representatives they could find? They mill about behind what looks like a stage curtain waiting for their Britain's Got Talent moment.
Let's Stay Together
The newest no campaign, which launched last week, was set up by the senior adland figures Andrew McGuinness (the founder of BMB and Seven Dials PR) and MT Rainey (the founder of Rainey Kelly Campbell Roalfe/Y&R and chairman of Th_nk). Let's Stay Together invites people who may not have a vote in the referendum but care about the outcome to express their belief in the UK and their affection for Scotland. The campaign released an online film that features celebrities including Eddie Izzard, Richard Wilson and Ross Kemp. The film, "Scotland, you're my best friend", is set to Queen's You're My Best Friend and was directed by Nathan Sam Long through Silverfish Media.
What the creatives say
Isaac Probably the best of the bunch. What I've felt about most of the communications throughout the debate is that they lack emotion, a real connection. This delivers on that with British/English celebrities saying "don't leave us", "Team GB" etc to the tune of You're My Best Friend. It's a slick production, the best by far from that point of view. The "nos" will love this, Yes Scotland will hate it and the scaredy undecided may feel wanted by it. Oh, and if you want to know, I'm undecided. But not scaredy.

Hart At first glance, "Scotland, you're my best friend" doesn't appear to say anything. And after repeat viewings, it still doesn't. "Tell the Scots to vote no 'cos we're friends" is the insipid message trotted out by various celebrities in a BBC-style promo. It is, of course, an ad for Labour in disguise. Eddie Izzard wants to be prime minister one day and he needs our block vote to deliver his dream. It has wonderful production values, though. The budget seems well in excess of most ads created north of the border – an ironic touch if ever there was one.