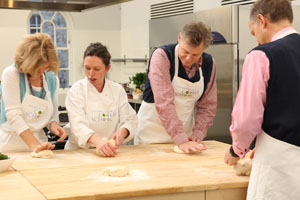 Belmond Royal Scotsman
A Highland games experience that can be tailored and arranged for large groups or an entire charter travelling aboard the luxury Edwardian carriages of Belmond Royal Scotsman, the UK's only luxury sleeper train which accommodates 36 guests, whether it's on the white sandy beaches of the West Coast, or at the private Rothiemurchus Estate amidst the pine forests of the Cairngorms.
A traditional Scottish sport, the games include tossing the caber and Scottish hammer, throwing the haggis, welly-throwing and a sack race.
Edinburgh New Town Cookery School
Remember the Generation Game? Edinburgh New Town Cookery School has launched a teambuilding version of the popular game show. Based on an afternoon tea theme, but adaptable for different times of day, and catering for groups of up to 32 in teams of four, the concept is a mix of cookery, conveyor belt recall and cunning quizzes.
Over the course of two hours, teams move around the school doing different tasks such as decorating cupcakes, making pancakes and sandwiches, and tasting teas. Built into the programme is a 'human' conveyor belt where individual teams watch a progression of food-related items and remember as many as possible. The famous cuddly toy even makes an appearance – in the form of a cuddly chef.
All activities are scored before everyone comes together for a kitchen-themed version of a pub quiz with teams competing against each other.
www.entcs.co.uk
Ballooning at Gleneagles Hotel
In celebration of its 90th anniversary, The Gleneagles Hotel in Perthshire has signed an exclusive partnership with Virgin Balloon Flights and is now the only Scottish hotel to offer guests the unique chance to explore the stunning Scottish landscape from the sky with Virgin.
www.gleneagles.com