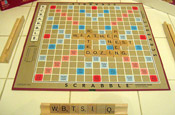 The website was created by creative digital agency Marvellous for client Mattel and ties in with Facebook and Twitter.

Twitter followers of the competition will be sent regular open challenges to form the highest-scoring word from seven random letters within a time limit.

A Facebook app allows Belgian and Dutch players to take each other on, with scores available to be used in their status updates.

Scrabblebattle.com adds each player's score to their country profile, fueling the rivalry.

The contest will finish in early December with the top-scoring players going through to contest a face-to-face event in Antwerp, Belgium.

A spokesman for Marvellous said it was possible the contest could be replicated for the UK market.

According to Marvellous, Isobar NL was also involved in the project.