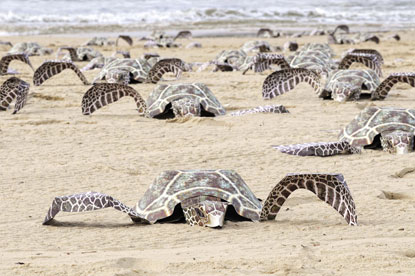 The stunt, which was created by Rapp, saw 200 of the hawksbill turtles appear on the shore, as though they had just crawled out of the sea to lay their eggs.

Each turtle had a message written underneath it, which explains the dangers that poachers pose to the animals, and highlights the work that the IFAW is doing to prevent it.

Each year, customs officials seize thousands of wildlife items such as ivory ornaments and coral jewellery at airports across the UK, many of which are souvenirs that have been brought back by tourists unaware of the threat they are causing to endangered species.

Robbie Marsland, the UK director of the IFAW, said: "This turtle invasion may look out of place on an English beach but unfortunately many endangered species have their final resting place in this country as tokens of exotic holidays abroad.

"We hope this spectacle will highlight the truth behind this deadly business."