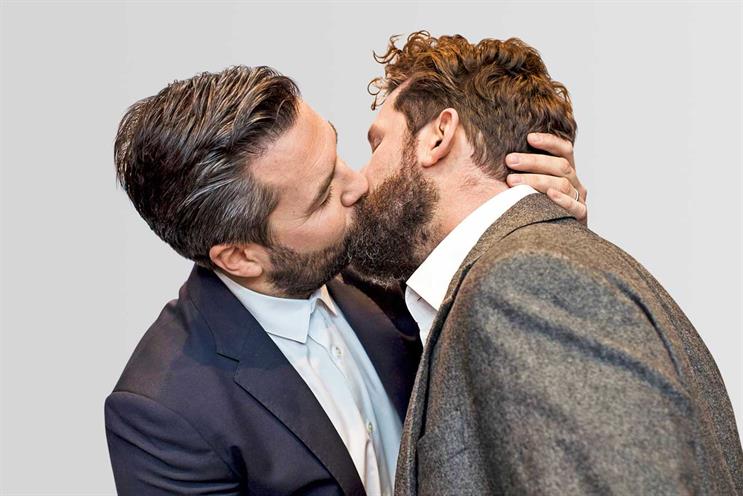 Grey's executive creative director, Nils Leonard (pictured, left), and lookalike creative director Jonathan Marlow celebrated winning two Creative Circle awards for Vodafone's "the kiss" campaign with a kiss. While rumours that their beards became fused together are unconfirmed, it would be appropriate given the ad's endline is: "Good things should last forever."
Either way, Leonard looks like he's enjoying the smooch. Perhaps he thinks he's kissing a mirror.
Twitter has the cure
Claudine Collins wears her heart on her sleeves when it comes to Twitter. At the weekend, she announced to her 2,200-plus followers that she was struggling with sleeplessness: "Jet lag is very irritating. Despite 2 hours sleep on the plane last night I still can't get to sleep. Any tips other than red wine??" Only JCDecaux's Paul Carolan, a new father, was up to provide a suggestion. Wags tell us that a simpler solution would be a glance at the feeds of some of her fellow adland Tweeters, such as Paul Frampton, who spent his weekend Tweeting about the loyalty of 12- to 24-year-old Facebook users in the US and conversion rate optimisation. Mogadon.
Retargeting is pants
Over to last week's ISBA conference, which was held at The Oval. Originality being everything, talk turned, as it invariably does, to "big data" and how it is impacting media buying. Fortunately, the session was moderated by the TV industry's pre-eminent bullshit detector, Tess Alps, who noted there were still "way too many acronyms" before warning how the promise of retargeting based on user behaviour needs to be viewed in the context of consumer experience. "I can be chased around by a pair of large pants all week, and I've already bought the fucking things," she said. Quite, Tess - that sure doesn't happen with a 30-second spot.