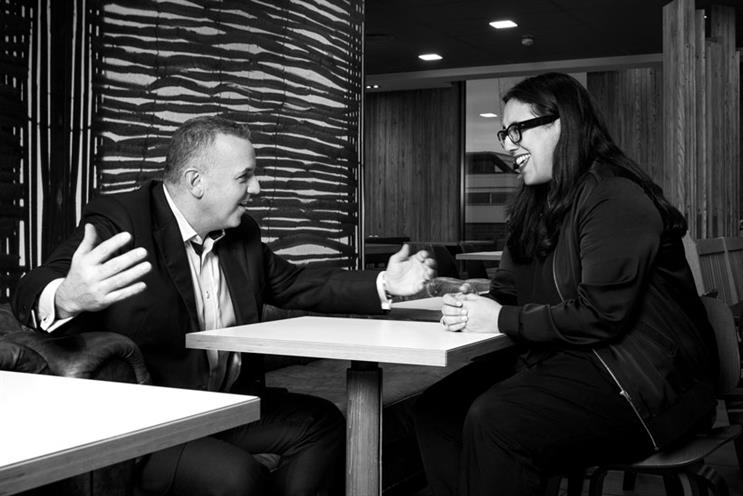 With more than 11 years of continuous growth in the UK, the brand's senior vice-president, chief marketing officer, Alistair Macrow, and the agency's chief creative officer, Chaka Sobhani, are under pressure to maintain this success. Campaign joined them at a McDonald's restaurant in Chelmsford, Essex, to find out how they plan to keep the good times going.
---
AM - Alistair Macrow | CS - Chaka Sobhani


AM: Tell me something I don't know about you.
CS: The PG version? I know the physical specimen you see before you is honed and athletic...
AM: Clearly.
CS: So, it may come as something of a surprise that, in my youth, I was a semi-pro tennis player. I was considering Junior Wimbledon, I had a coach, I had to train in the mornings.
AM: No!
CS: This is usually the reaction I get.
AM: The only reason I say that is I've not heard you talk about it before at all.
CS: Well, I think it's because people would just stare at me and say: "Stop it." I was massively into it. I used to get the Tennis Times.
AM: I didn't even know there was such
a publication.
CS: And then I discovered boys and, um, life took on a different direction. So I'm now asking you the same question.
AM: It's a lot more boring, but I've never, ever been on a shoot, in my 20 years in the industry. My team doesn't know that either.
CS: Have you got close and then turned around?
AM: Not really. It is partly because of how I came in [to the industry], at a relatively senior level. I've got people who know what they are doing, so I shouldn't interfere. So I think it stands me in good stead now, but I'm still a bit embarrassed admitting it.
CS: Right, that's my challenge for the next 12 months, I'll find the perfect one.
Twenty-nine years and counting
CS: As McDonald's and Leo Burnett, we have a 29-year-long relationship. As well as the huge numbers of ups, there have also been some challenging moments as well.
AM: One of my favourite ones was when we decided to do a brand campaign. We hadn't run one in over 10 years, so we spent ages briefing, and asked the agencies to come together for one massive presentation. In walks the then-ECD. The poor bloke had had a bad accident the day before, and his leg was in plaster up to his hip. Then, when we all thought we knew what we were going to be presented with – a warm and genuine script, showcasing life in McDonald's – he stood up to present a script about aliens. The feeling of discomfort in the room was the worst I've ever felt. We ended up taking another six weeks to get there.
CS: There is a fundamental understanding within McDonald's of how a creative agency works. It is like a football club: you can have a fantastic team, and the team can regenerate, but the spirit and success of the club can be maintained because the values stay consistent. While we've had some brilliant individuals in those 29 years, it is always about the collective, especially now when the tenure of chief marketers is getting shorter and shorter.
AM: Do you think I should be moving on?
CS: No. Absolutely the contrary. There is a lot more jeopardy when you don't have that longevity of relationship.
AM: You're right, there is something in culture which is so important. One thing that stands out for me – let's be honest, we're not in an industry short of an ego or two – is that, by and large, I think ego gets left by the door.
CS: Definitely. Fear doesn't enter the room when you have shared values and collective goals. There are disagreements, of course there are, but they are good tussles in the way that families have them.
AM: You are newer to this than I am. What's it like knowing that the successful relationship is already in place, and that a way of working has already been established?
CS: McDonald's was a huge reason that I came to Leo Burnett. Of course you don't want to mess it up, and I hope to heck I don't, but there has been so much groundwork done that you can get into a groove, and then hopefully improve things.
AM: I must admit, the most difficult jobs are the ones where everything is working. It is so much easier when it is all broken. It might be hard work, but at least you're not going to mess it up. Our expectations are pretty tricky. "Oh, there's a great new ECD coming in, we want her to bring new ideas." It's got to be tough, but you've done a bloody good job of it.
Wake-up call
CS: What keeps you awake at night?
AM: Normally Jan punching me because she doesn't like my snoring. It's the only way she can wake me up and get me to roll over. If I'm honest, not a lot else. I love the job I do, and I don't feel it should be keeping me awake at night. I'm more interested in what I wake up
in the morning thinking. What would you say
to that?
CS: I don't think any of it is surprising. How are you going to make things better? How are you going to keep improving? We're in our 44th consecutive quarter of growth, which is just nuts, but I don't think you achieve that through complacency.
AM: There have actually been 46 of them.
CS: Oh, come on! What's in a couple of quarters?
AM: With that amount of success, it's how we keep that going. The biggest fear is that I don't want to be the one who is sitting there when we don't keep it going. If you had to pick out the thing that really annoys you in the world of work, what would it be?
CS: The freedom and opportunity we have to come up with creative solutions is by far the biggest privilege. That said, sometimes there is a lot of tricksy bullshit just for the sake of being clever, and it doesn't have any impact on people's lives. Energy and time are beautiful commodities, and wasting them annoys me.
AM: I think that's fair enough. It's the people who speak the tricksy bullshit that really annoy me – people who are all about the next best thing, without working out if it's the right thing. If they spent as much time thinking about our customers, the whole industry would be the better for it.
Feeling good
AM: If we look at the world around us now, what makes you feel optimistic?
CS: I'm going to go a bit Oprah for a second. I know it sounds really sentimental, but I think when times get harder and we feel a bit more hopeless, that is when we see the best in humanity, and people trying to solve problems. Times are tough, and there are a lot of profound issues that are troubling our country and our industry, and I think we have to be honest. I don't mean to sound pompous, but I do genuinely believe it. I have an eight year-old and a six year-old, and I see them, even at this age, with the joy and optimism.
AM: For me, it is all about the people. When I look at my diary in the morning, if I see I have a couple of hours talking strategy or looking at work with my team, I already feel better about my day. It is even better with some of the younger members of the team – the thinking is purer, cleaner. It is paradoxical, really, but the older and more experienced I get, the more I find out I don't know. It leaves me feeling uplifted about what we can achieve. •