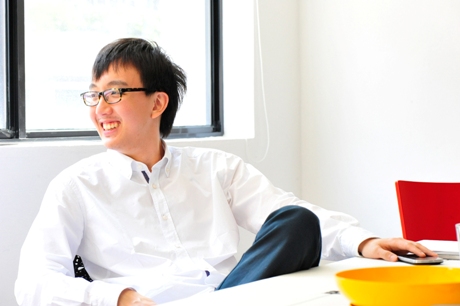 This morning, I had an "artisanal" cup of "fair-traded", "small batch" coffee, brewed at a "bespoke" coffee "atelier", just blocks from our office here in Singapore (what the hell is a bespoke coffee atelier?). Half-way through my cup of skinny cappuccino, it got me thinking about what we do as creative professionals that represents the Asian creative community to the rest of the world.
The worldwide trend towards all things artisanal, fair-traded, small batch and bespoke has seen its influence unknowingly expand towards us here in Asia. We may not call it all those things here, but a recognition and heightened sensitivity towards our particular ingenuity and general collaborative spirit has been growing among a new generation of clients who are, first and foremost, Asian in their approach, and global in their outlook.
An artisanal experience
It is all about making someone feel special. The bigger you become, the more challenging this is. It's a truth that applies universally to both customers and clients seeking love and sincerity in this day of tablet computers and oversized billboards.
In South-East Asia, it has become especially difficult for clients who need something a bit more "special" to communicate complicated or nuanced messages in an inaccessible, fragmented marketplace where traditional media stumbles and new media hasn't penetrated.
In early 2010, PayPal, a long-time client of ours, needed to tell Malaysians about a new product enhancement that promised greater security and guarantees for transactions. The challenge lay in the fact that we rapidly needed to tell a large number of Malaysians who actively engaged in online retail about PayPal's new changes. This was an especially difficult group to target, since no single media channel in the country could effectively reach or target this group of digital influencers.
Simply adapting our existing Singaporean, Hong Kong or Filipino campaign would not do. We ended up creating a boy-band to serenade key influencers across Malaysia with a song written especially for them about how PayPal adored and benefited them. Painstakingly, each influencer was researched, lyrics were written, melody was composed and music videos were directed and shot. To deliver something "special", there were no shortcuts in the craft and development of this campaign.
The rest was history. More than 50 "music videos" went out, resulting in massive awareness from quality retweets, Facebook shares and blog posts from flattered Malaysian influencers, all heralding PayPal and its new buyer protection programme.
Fair trading
What would "fair trade" be in our line of work? Surely, these days, everything we do is "fair", ethically derived and often in exchange for a fair sum of money. On the back of a bottle of shampoo I recently purchased, I read with great interest (well, some interest) that the shampoo I bought was made from fair-traded olives. I can't tell if this little snippet of information made me feel better because I could feel good knowing that the farmers received a "fair trade" for their olives to make this shampoo, or if I simply enjoyed having some information about how my shampoo was made.
Either way, the very perception and knowledge of a product or service being traded fairly didn't hurt.
This started to make great sense when we started applying principles of fair trade in the entire production department of our office. These principles are especially relevant to producers because it is they who wheel and deal the most within the agency.
Fair trading is, to us, the act of exchanging produce and services in a manner that ensures positive equality between both parties. As with any relationship with a partner you deem equal and deserving, it starts to go downhill when either of you attempts to profit or make more than you should from any given trade or transaction. The principles of fair trading apply also to non-monetary transactions between our partners and collaborators. This could be a barter of products for service (or vice versa), products for products or services for services. Either way, it all goes to serve an ultimate goal of ensuring that our clients obtain the very best suite of production services across Asia and have access to the very best talent because, when we trade fairly, everyone benefits.
Bespoke networking
It is commonly thought in Asia that only the larger network agencies get a shot at regional or global business due to their abilities to service the size of that business.
When it came to developing our own network capabilities, we took a huge step back and looked closely at many of the world's top brands and at how they are run: not out of London, Paris and New York but, rather, out of Montreal, Portland, San Francisco and Melbourne.
From the quality and type of job requests we've been receiving across Asia, we are happy to report that the new Asian client isn't looking for a cookie-cutter, ready-made ensemble of agencies to handle its global creative needs. Instead, the client wants to pick the cast and crew. Meet every key person. Visit every office and receive all important recommendations on how it should be crafting and running its network.
This could mean a cocktail of agencies ranging from the big network ones to smaller, more specialised outfits to manage and ensure the growth of our clients' brands globally. Whatever the mix, the one thing we're certain of is that every client, big or small, can benefit from a hard-working, secret, little agency to grow their brand with.
Nicholas Ye is the chief executive of The Secret Little Agency
---
AT A GLANCE
Founded
2007
Principals
Nicholas Ye, chief executive; Philip Kor, chief financial officer; Mavis Neo, partner, creative technology; Eunice Tan, partner, strategy and development; Lee Hanyi, group creative officer; Sarah Inglewood, group talent director; Kris Kam, managing director, China; Marcus Huang, creative director; Michelle Wan, design director
Staff
23
Locations
Hong Kong, Shanghai, Singapore
What is the future for pureplay digital agencies?
It's there for the kinds of clients who see digital as a medium versus a way of thinking. And when those clients stop coming with those kinds of briefs, then I sure hope these agencies will have moved on by then
Which movie title best describes your agency?
The Life Aquatic.