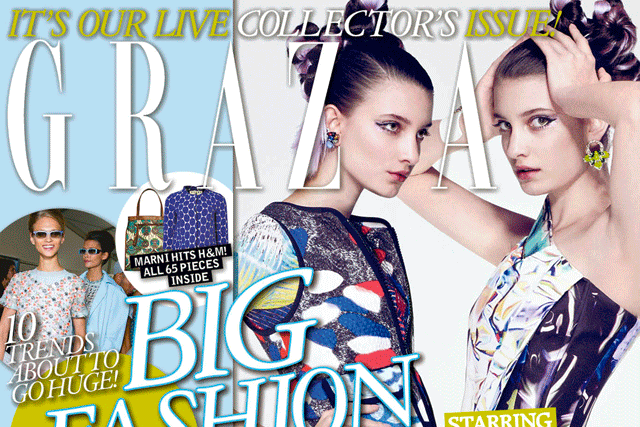 The latest round of ABC magazine circulation results should be consigned to the media vaults and labelled as the final time anyone really cared about print-only readership figures.
For what it's worth, of the 500 free and paid-for titles, only 144 increased circulation year on year. Glamour maintained its hold as the best-selling women's monthly, Take a Break still dominates the women's weeklies despite a 5.1% fall, and Men's Health still outsells other men's magazines in a declining market, that's down 5.2% to 2.1 million readers.
This provides a clear indicator of the current times and a glimpse into the future. It's all you need to know, because the days of poring over combined print circulations of 1.2 billion and assessing how Zoo performed against Nuts is over (IPC's Nuts fell by 19.8% to 114,116 compared with Bauer's Zoo, which fell by 20.4% to 54,599, in case you're still interested.)
The point is that the magazine industry is in a transitional period. Print sales now only tell one side of the story. Publishers are developing their titles as media brands and extending reader relationships across the 'Wild West' landscape of mobile, tablet and web.
Sannah Mullan, trading director at Zenith Optimedia, says: "Take IPC's Marie Claire for example.
"It's available on 11 different platforms and has huge clout as a consumer influencer, but that's not reflected in the current auditing system. Advertisers still rely heavily on display and they're not capitalising on the digital potential, because the engagement data at present just doesn't exist."
It's true that the ABC hasn't allowed publishers to combine print and digital sales into a headline figure before, but the winds of change are finally blowing.
The launch of Apple's Newsstand platform in October last year, along with Yahoo's Livestand app for iPad in November, is redefining how users engage with magazine brands, and the ABC has had to react.
From the next round of ABC reporting, publishers will be able to show their brand-reach across a multitude of platforms for the first time.
James Papworth, marketing director at the PPA, says: "The ABC has launched a multi-platform certificate for individual brands and a group multi-platform certificate to allow a media owner to showcase reach across a sector, market or geographical region."
The ABC claims the new certification will allow media owners to highlight the full scope of their reach, while retaining the ability to view each communication platform separately.
Jerry Wright, chief executive for the ABC, says: "Our multi-platform certificate for brands and groups makes the reporting process clearer and simpler. As brands develop their offerings and have an increasing number of platforms to audit, it makes sense to consolidate the process and ensure all information can be found in one place."
For most publishing companies, the certificate is the start of a new chapter of communicating performance data to advertisers.
Condé Nast believes that if its digital editions had been added to this period's ABC results, which remained flat at 120,094, it would show the company actually grew circulations over the past six months of 2011.
For companies such as Dennis Publishing however, which has been distributing digital editions since the launch of Monkey in 2006, evolution in the auditing system is still a long way behind where it could be.
James Tye, chief executive for Dennis, explains: "The Week is our new flagship app brand and has seen more than 100,000 downloads since it launched on iPad in October. We know the users like it because it regularly gets four- and five-star ratings, which is more important at this time than circulation figures. Our app store ratings are testament to not only the quality of our content, but also the technical delivery.
"The physical newsstand has been in decline for some time now, so the digital newsstand presents massive opportunities. As publishers however, we have to get better at technical delivery and communicating to advertisers the actual reach and engagement of our digital publishing products."
Dennis Publishing currently boasts titles such as Mac User, which has 35% of its overall circulation distributed via iPad users, and Evo, which is growing iPad subscriptions of 6,000 and downloads in the region of 300,000 for its enhanced digital edition.
Tye says: "The numbers are pretty big for us on the Apple Newstand currently, which is gratifying, but our brand creatives are also producing pure apps such as the Viz Profanisaurus, to engage with readers in other ways. We're all evolving into media businesses with multiple digital assets and the auditing evolution process needs to accelerate to reflect this."
According to the PPA's Papworth, the main reasons people still have a healthy appetite for reading magazines is for stimulation, escapism and inspiration.
He says: "Readers have an equal relationship with both the editorial and the advertising because they engage with both in a trusted environment. When you translate a magazine onto digital platforms, the user still has that relationship with the brand, but the ability for richer content means that they're willing to engage for longer. Time has become a measurement, important to advertisers. Publishers therefore are looking for ways to increase time spent with their brands.
"You wouldn't walk out of a film you were enjoying would you? Well, it's the same for a magazine. If there's more content, people will spend longer with the brand and that's an exciting prospect for advertisers."
Bauer Media's Grazia brand understands the need for deeper engagement with its readership.
The fashion magazine recently launched its spring collector's edition to coincide with London Fashion Week and supported it with an online behind-the-scenes documentary TV series, and a social publishing exercise, which allowed readers to comment, influence and vote on the editorial selection process and even choose the front cover.
The social experiment by the print product was accessible across all Grazia platforms, including graziadaily.co.uk, YouTube and Facebook.
Abby Carvosso, managing director of Bauer Magazines lifestyle, says: "The LG Mobile-sponsored Grazia's Fashion Issue… Live! series gave our readers an additional level of exclusive content and demonstrates the depth of interaction advertisers can have with their audiences through Bauer's influential brands."
Paul Keenan chief executive for Bauer Media says: "Magazine publishing is about leading on product over price now. Cover mounts, multi-packing and aggressive price strategies are tactics that won't work for the future of our sector. You need a content strategy and a print plan that goes beyond the printed page. The use of other platforms is vital for building deeper relationships with both readers and advertisers, and Grazia's recent work with LG is an example of where magazines need to be in order to outperform the market."
At the start of the year, Bauer restructured its commercial operations so that its long-standing digital team of 20 were integrated into a 100-strong advertising team, all of whom are responsible for the digital sales of their respective brands.
Keenan states: "It's a journey we all need to be on, so that we can demonstrate to advertisers what suite of activity delivers the best returns and show our more-in-depth understanding of how to build trust while enriching content."
When Keenan talks of the Heat brand, he speaks of creating content that's "sticky" online and getting under the skin of social media, so they can move away from the sheer noise of social networks. Heat has a combined audience on Facebook and Twitter of 369,131, which is greater than its print circulation, currently down 12.1% to 325,370.
When he talks about Empire and its Apple Newsstand version, Keenan speaks of investing in media rich editorial that doesn't overwhelm the reader but provides a more immersive experience.
"Empire's relationship with Disney is now such that when the recent Muppets movie was being filmed, Ms Piggy challenged our readers to a staring contest via an exclusive short film for iPad," Keenan says. "It's these initiatives that prove our understanding of how the sector is evolving."
Hearst Magazines meanwhile, is successfully developing its titles as "brand ecosystems", according to chief executive Arnaud de Puyfontaine. It's a strategy that Puyfontaine claims is making the company more agile.
Since launching on the Apple Newsstand in October, 10 million users have downloaded Hearst Magazines UK apps, with Cosmopolitan consistently ranked as the number-one, top-grossing brand in the Apple Newstand chart for iPhone.
For the company's recent launch of Women's Health, a digital sampler with seven pages of ads was added to Newsstand apps for Runner's World, Company, Cosmo, Reveal and Red magazines.
De Puyfontaine says: "The consumer magazine sector is one where the advertising remains unobtrusive and shares a trusted reader relationship with editorial. The challenge lies where you have a powerful brand such as Cosmopolitan and there's the potential for multiple points of contact with its audience. We need to protect the trust readers have placed in these brands when distributing content and advertising across new platforms. We are learning as we go along, but it's a journey we are very excited about."
Sylvia Auton chief executive at IPC Media, agrees. She says: ""We continue to extend the reach of our brands to engage with consumers across a variety of platforms including live events, apps, websites and tablet editions.
"As well as launching websites for our print brands, we have also launched print extensions of our online brands, such as Trusted Reviews and GoodtoKnow Recipes. In February, we launched Marie Claire Runway, as a print edition, web channel and as an optimised iPad app.
"IPC Media remains committed to providing our advertising partners best-in-class audience insight and a range of compelling and creative ways to reach our audiences."
Zoe Bale, Carat's head of print planning, says that in the future, this publishers' journey will ultimately change consumer purchasing behaviour, as readers will be able to buy direct from the digital page. Magazine brands will continue to acquire valuable audience insights from digital registrations that will allow them to learn more about their readers buying habits and consumer interests and that, in turn, will enhance both the editorial and advertising decisions of the future.
Bale says: "On mobile, location-based apps will be able to tap into the reader's wants and needs at anytime and any place, so we'll shortly see a lot more of the types of brand extension apps that Glamour has developed around core editorial elements such as hair and make-up advice.
"The challenge for publishers is delivering a consumer experience across digital platforms, which is better than the physical experience. But, with new ways to deliver the product and enhanced ways to measure the brand reach, it's truly an exciting time for magazine owners."