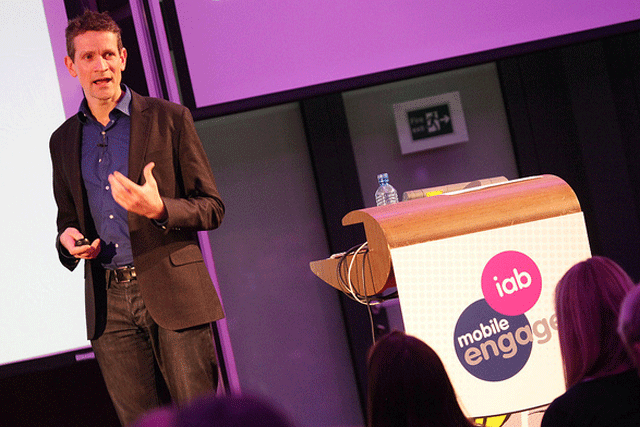 1. The landscape has changed dramatically
UK mobile advertising spend is projected to be £962m in 2014 – that's a 3000% increase since 2008. A year later, it will cross the £1bn threshold, according to the Internet Advertising Bureau (IAB).
Towards the end of 2011, comScore found that the mobile internet audience had peaked at 24.6 million and there were three million tablet owners in the UK – 65% of whom were iPad users. Today, there are 4.8 million tablets in the UK, which is the same level as smartphone penetration four years ago.
During the IAB's recent Mobile Engage conference, Twitter's sales director Bruce Daisley pointed out that in our mobile-centric world, the average sent SMS is opened within four minutes. Simon Morgan, Google UK's former head of mobile advertising sales suggested, that "more Android phones are being activated than babies born around the world".
He says: "One in two people in the UK have a smartphone, with 59% using mobiles every day to access the internet. We've found that 28% of people even check their social networks before getting out of bed in the morning."
2. M-Commerce is driving change
According to a report on Mobile Adspend, published by the IAB and PWC in March, the percentage of mobile visits to online retail sites rose from 2.6% in 2010 to 8.2% in 2011. The average transaction carried out on a mobile device also rose from £12.20 to £17.49.
Market data from Mobile Squared suggests that more than seven million users have each spent up to £100 on a mobile transaction this year, steadily rising by a million each year.
Nick Lane, the company's chief strategy analyst, believes that retail is the largest driver of mobile traffic and that brands are now doing more with advertising to reward in-app purchasing and drive customers into stores. Once inside, brands such as Oasis have even installed in-store tablets to allow customers to complete their purchases and beat the till queues.
Sarah Baillie, mobile commerce coordinator for Debenhams, told delegates at the recent IAB Mobile Engage conference that Wi-Fi would become commonplace in retail stores in the future.
She said: "There are many benefits of people engaging on mobile within the store – allowing them to double-check prices against the website, read reviews or share products with friends for a second opinion. If retailers don't engage with mobile they will loose out to pureplays such as Amazon and eBay."
Latitude chief executive Alex Hoye says: "If you operate both physical and online services, make sure the two are linked and that the messaging is consistent. Right now, consumers may be walking into your business location with your website in their pocket. Capitalise on this. First, give visitors to your mobile site a reason to visit your store. Be creative and stand out – web vouchers for in-store discounts are easy, but can you find other ways to engage your mobile visitors in the real world?"
3. Tablets have changed mobile behaviour forever
The iPad has sold at three times the historic rate of sales of the iPhone. According to the IAB Mobile Adspend report, 74% of tablet usage takes place within the home, while 50% occurs after 7pm.
Jon Mew, IAB director of mobile and operations, says: "It's an evening medium, which impacts on how tablets are used. Tablet owners watch videos for 28% longer, compared with other devices, and 51% of tablet owners interact while watching TV."
Independent mobile advertising network InMobi and Mobext, the mobile marketing network of Havas Digital, recently surveyed 8,400 people to discover that 72% of respondents watched TV while using their tablet and a fifth of consumers said they watched more TV following a tablet purchase.
The research further stated that 63% of tablet users in the UK agreed that it is easier to access media content on a tablet than on a mobile phone or laptop.
When considering browsing and purchasing patterns, the research also found that tablet users purchased more regularly than on any other device. Additionally, more than 20% of tablet users claim to shop less in bricks-and-mortar stores, since purchasing their device. More than two-thirds (69%) of tablet users had shopped via their device in the last 30 days, with almost one in 10 of these consumers happy to use their tablet for a "big ticket" purchase.
John Stoneman, sales director EME at InMobi, says: "Media consumption habits are indeed evolving. The research shows there is a strong correlation between the use of tablet devices and TV viewing, with the UK showing the highest levels of 'dual-screening' across the globe. Considering the path to purchase point, tablets are being used to research and browse products, which is then followed by a decision to buy the product."
4. Rich ad formats are getting richer
According to Mobile Squared's Lane, "the richer the ad, the better the interaction."
By 2011, banners and text links accounted for almost 30% of an overall mobile advertising spend that totalled £203.2m. The remaining spend largely went on search (£134.3m), plus text marketing (£7.6m), according to the IAB's Mobile Adspend report. All of these formats saw huge growth from the previous year. Kieren Bourke, managing director at Mobext UK believes that enhanced mobile strategies, along with technology innovations, will continue to drive this growth.
He says: "Marketers are focused on the post-click action and the customer journey. Where will the user be taken to after they've clicked on an ad, and how will that step help the user on their journey towards purchase? Our financial clients focus on click-to-call strategies, so considerations include 'Is the dial-through number free to call from a mobile?' and 'How good is my mobile site?'. Retail brands are looking more at click-to-location strategies and clever ways to use GPS-enabled adverts to help drive consumers to their nearest store."
5 - Innovation is driving new ad formats
Qriously, originally from the US, recently launched 'Askvertising' ad formats in the UK, which replace ads with questions in smartphone apps.
The questions, such as "Are you in the market for an HD TV?" enable advertisers to get data in real-time, understand the types of people using a particular app, and can determine which mobile ads work and which don't.
Kiip, meanwhile, allows advertising to offer in-game rewards, so when users complete a level, they may be rewarded with a product voucher or discount code. Advertisers are charged on a cost-per-engagement model and engagement is only recorded when a player enters an e-mail address to redeem the reward.
Mobext's Bourke says: "Apple has reduced the costs involved with experimenting on iAd, which means that brands can try out different functionality such as allowing users to take Instagram photos within the advert. Dual-screen apps such as Zeebox are still expensive to test however, but the possibilities around Zeetagging are very exciting."
Zeebox's new click-to-buy format means that during a commercial break, Zeebox now knows which ads are playing and automatically serves matching "zeetags". Click the zeetag and an overlay displays content directly from the advertisers' website.
Zeebox co-creator Anthony Rose says: "We use advanced video fingerprinting to recognise ads as they appear on TV. Importantly, the user doesn't need to hold up their phone to the TV and wait while it listens to what's on – our servers do all the hard work. You just sit back and watch the click-to-buy tags magically appear on screen in sync with things playing on TV."
Rose appears to be referring to the deal signed between ITV and audio-recognition app Shazam last month, to offer second-screen extensions for its on-air campaigns.
ITV broadcast its first Shazam-enabled ads during the 'Britain's Got Talent' final on 12 May, including a 30-second Pepsi Max spot, devised by Mindshare' where users could click through to win festival tickets or download the music.
Tiffany Welsh, Pepsi Max UK digital manager, told Media Week, the initiative fitted in with its audience base because, "Pepsi Max consumers are always at the forefront of digital trends."
According to Mobext's Bourke, sound recognition and advances in touch will be the two biggest growth areas to change the mobile advertising landscape.
He says: "We already have Siri and the Shazam deal, but recently, we tested the Finnish start-up Senseg's E-Sense technology, which brings touchscreens alive and allows users to feel texture such as rock and grass. Fashion retail clients have already got very excited about being able to show how a product feels through a banner ad, and just imagine what it could do for the package holiday market."