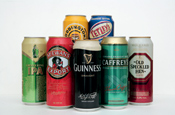 Guinness will celebrate its 250th anniversary next year and is already plotting marketing activity said to involve a budget of £50m. However, while the brand has long been synonymous with iconic TV ads, its owner, Diageo, has also invested in new products to stimulate the brand, adding Guinness Red to its line-up. It is such innovation that has buoyed traditional brands and fuelled the success of some smaller ale and stout players. Nonetheless, the overall market remains in decline, which is expected to continue over the next five years as its value falls by 21% in real terms.
Innovation and investment in promotion have been vital for stouts and ales - an alcoholic drinks sector that has not had an easy time of it of late.
Shifts in consumer preferences have resulted in a sales slump and the market is expected to be worth £5.5bn in 2008, a 3% decline on 2007, with volumes down 6% to 1.4bn litres, according to Mintel.
As well as the competition from alternative drinks, ales and stouts have also suffered as a result of fewer people visiting pubs; consumption levels are declining and more emphasis has been placed on food. The Campaign for Real Ale (Camra) estimates up to 57 pubs a month will close this year.
There have also been issues around the quality of the ale sold in pubs and an assurance scheme, Cask Marque, has been established to help ensure proper delivery of the drink.
Despite the on-trade issues, pub sales remain of greater importance to this sector than other alcoholic drinks, accounting for the majority of sales with a 70% share, although it has lost 4% to retail sales over the past couple of years.
While there has been an overall decline in the sector, cask and bottled ale has experienced something of a renaissance and, in line with changing consumer demands seen in other food and drink sectors, provenance and heritage have moved up the agenda.
As a consequence, some regional brewers have recorded sales growth as their natural ingredients and local heritage become a unique selling point. This has been a factor in the buoyant sales posted by the cider sector, and could also benefit ale brewers.
The 'green' credentials of ales are also being promoted and Camra has argued that stocking local brews in pubs reduces 'beer miles' as well as packaging. Adnams' investment in an eco-friendly brewery that uses solar power and rain water is one example of the initiatives being rolled out.
'There are big opportunities for ales to exploit consumer demand for drinks with genuine provenance and quality,' says Graham Abbott, director of drinks specialist Box Marketing. 'Pub licensees recognise its importance, given the price difference between lager in multiples and in pubs. The trend for bottled ales will also grow as it overcomes the problem of draught that requires high volume sales to make it viable.'
The effect of the smoking ban has been much debated in the industry and while there is no doubt that some are put off by their inability to smoke indoors, non-smokers have welcomed the change, which could benefit the ale sector as more affluent drinkers return to smoke-free pubs.
Another challenge for the ales and stouts sector is the 4p duty increase on beer added as part of the last Budget. Many have argued that it is likely to lead to further pub closures and is unfair on the industry as it equates to a 13% price increase. This is on top of rising costs for raw materials and energy.
Within the market, the big players have lost volume and value share as niche brands have gained ground. Tetley's, Boddingtons, Caffrey's, Stones, McEwan's and Banks's have all lost out in this area. Scottish & Newcastle's John Smith's has done better, as has Greene King IPA.
Carlsberg's biggest UK ale brand,
Tetley's, remains popular in Yorkshire and Lancashire, but is losing share overall. Meanwhile, the difficult climate was reflected in the decision by Coors, owner of Caffrey's and Stones, to close its visitor centre in Burton-upon-Trent, due to declining visitor numbers.
Greene King's stable of beers includes IPA and Old Speckled Hen, with the latter performing particularly well in the take-home bottled beer category. It has also been relaunched with a lower ABV and new-look bottles for the on-trade, which has boosted sales in pubs.
To protect sales share the brewers will have to do more to appeal to women and younger drinkers, perhaps with lighter variants.
Redesigned packaging might also improve off-trade sales. 'Ales are primarily sold in single units, and producers should work harder at getting their brands into six- or four-packs,' says
Abbott. 'Consumers are now attuned to buying beer and cider in multiple packs, and in order to compete, ales need to be presented in the same way.'
Ales and stouts have an older profile and the growth in the 65-plus demographic and the growing size of the 45- to 54-year-old age group is good news. On the downside, older people tend to have a lower alcohol consumption level and many entering this age group will have grown up preferring lager and wine.
Taking all the factors into consideration, Mintel forecasts a decline of 9% over the next five years to reach a value of £4.98bn by 2013. In real terms this is a decrease in value of 21%, slightly worse than the decline experienced in the previous five-year period.
Analyst comment
Kevin Baker, Director, alcoholic beverages, Canadean
On the face of it, ales, and to a lesser extent, stouts, have had a pretty torrid time in 2006 and 2007, with ale volumes falling by almost 9% each year, compared with an overall market decline of about 3%-4%. Stout volumes have also declined, but in line with the total market.
However, these figures mask vastly differing fortunes. Main-stream ales fared particularly badly, dropping by 8%, while premium ales outperformed the market, falling by just under 2%. The continuing decline of on-premise sales hit mainstream ale volumes, while premium ales benefited from the trend toward drinking at home.
John Smith's recorded a 1% increase in volume in 2006 and 2007, while Worthington's, Boddingtons and Tetley's all continued to register double-digit declines.
By contrast, a number of cask ale brands posted significant volume increases. Both London Pride and Young's benefited from increased distribution, while the success of Belhaven and Deuchars suggests that Scottish consumers may be developing a taste for cask ale. Old Speckled Hen continues to return impressive growth.
While Guinness continued to decline, its Guinness Red variant, which was rolled out nationally at the end of last year, does not seem to have cannibalised the core brand.
A potential challenge for some of the key premium ale brands is the proliferation of 'quirky', smaller brands in supermarkets, which decrease the amount of shelf space and can hamper brand-building.
However, these brands do represent a real and continuing interest among consumers in the ale market, which, ultimately must be good news for all players in the sector.
On-trade draught ale and stout sales by value and share
2007
2005
%
value
value
change
Brand
Brewer
£m
%
£m
%
2005-07
1
Guinness
Diageo
814
17.8
828
17.3
-1.7
2
John Smith's
S&N
681
14.9
675
14.1
0.9
3
Tetley's
Carlsberg
347
7.6
372
7.8
-6.7
4
Worthington's
Coors
315
6.9
365
7.6
-13.7
5
Caffrey's
Coors
155
3.4
173
3.6
-10.4
6
Boddingtons
InBev
137
3
175
3.6
-21.7
7
Greene King IPA
Greene King
133
2.9
114
2.4
16.7
8
Stones
Coors
96
2.1
106
2.2
-9.4
9
McEwan's
S&N
87
1.9
96
2
-9.4
10
Banks's Bitter
Marston's
78
1.7
86
1.8
-9.3
Sub-total
2843
62.2
2989
62.3
-4.9
Others
1726
37.8
1808
37.7
-4.5
Total
4569
100
4797
100
-4.8
Source: Mintel
Off-trade ale and stout sales by value and share
2007
2005
%
value
value
change
Brand
Brewer
£m
%
£m
%
2005-07
1
Guinness
Diageo
111
9.8
99
9.8
12.1
Guinness Draught
78
6.9
65
6.4
20
Guinness Original
33
2.9
34
3.4
-2.9
2
John Smith's
S&N
89
7.9
85
8.4
4.7
John Smith's Extra Smooth
69
6.1
62
6.1
11.3
John Smith's Original
20
1.8
23
2.3
-13
3
Boddingtons Draught
InBev
34
3
37
3.7
-8.1
4
Old Speckled Hen
Greene King
22
1.9
28
2.8
-21.4
5
Newcastle Brown Ale
S&N
21
1.9
18
1.8
16.7
6
Caffrey's
Coors
19
1.7
19
1.9
0
7
McEwan's Export
S&N
18
1.6
21
2.1
-14.3
8
Tetley's Original
Carlsberg
14
1.2
14
1.4
0
Sub-total
329
29.1
321
31.8
2.5
Others
801
70.9
689
68.2
16.3
Total
1130
100
1010
100
11.9
Source: Mintel