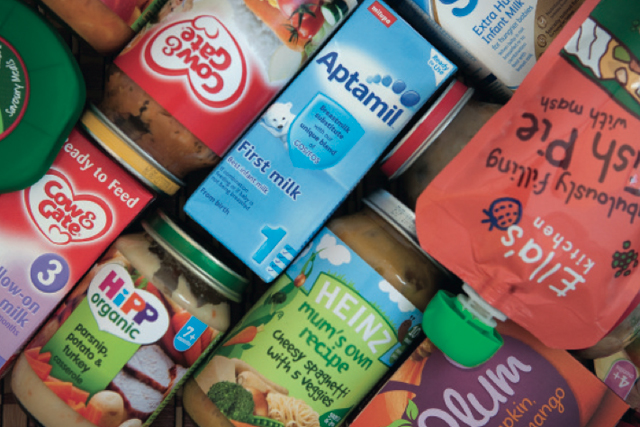 Trends
Priorities. This market has been protected somewhat from the downturn as parents don't want to compromise on the quality of their babies' food.

Organic. Elsewhere organic is taking a beating but not in baby food and drink. A sizeable minority of parents buy organic products.

Scratch cooking. More than half (53%) of parents think homemade baby food is safer than manufactured and 41% make their own to save money.

Limited audience. Babies start solid foods at six months and by 18 months they move to adult food, so manufacturers only have a short timeframe to reach their shoppers.

Older mothers. As the trend for delaying motherhood continues, mothers then tend to have greater spending power which has boosted premiumisation in the market.
Mini baby boom. Demand for baby food and drink has increased as the number of births has risen (up since 2005, expected to peak in 2013). Value increased 51% (2007 to 2012) to reach £611m.
Source: Mintel
Top UK babyfood and finger-food brands by value sales (£m)

Source:Mintel
Top UK baby- drinks brands by value sales (£m)
Source: Mintel
Jane Edwards, marketing controller, Infant Feeding, Heinz


Edwards has been marketing controller for infant feeding at Heinz since January 2012. Her role involves leading the marketing team, developing long term category strategies and responsibility for innovation. She previously worked across most of the different divisions within Heinz. Prior to joining Heinz, she was marketing director at Hallmark Cards and a consultant at The Brand Development Business.


Jocelyn McNulty, interim marketing director, Danone Baby Nutrition


This year McNulty took over the Cow &Gate brand as interim marketing director. She has spent most of her career previously at Kraft in marketing roles across its brands and territories. Between 2006 and 2011 she built its new biscuit category in this country launching Oreo, Mikado and Belvita into the UK.

Stephanie Hildon, marketing director, Organix

Hildon has 16 years' experience working with a range of brands across different industries, both client and agency side. Most of her early marketing career was spent with Johnson and Johnson. Since leaving J&J in 2004, her career has covered a spectrum of brands from beer, to car insurance and dishwasher powder. She joined Organix in 2010.

Mark Cuddigan, head of sales and marketing Ella's Kitchen


At Ella's Kitchen Cuddigan's role is known as head of making deals + friends. He joined the company in August 2011 following a varied and entrepreneurial career. After university he invested and worked in nut company Dormen Foods before the company was sold in 2007; he then bought a stake in cereal company Lovedean Granola which was sold a year later. He was managing director at Annabel Karmel Group before joining Ella's Kitchen.
Winners and Losers in the babyfood and drink sector
Ella's Kitchen. Sales of this quirky, award-laden brand have increased 37% and its turnover reached £30m in 2011. Online in September it was the most positively viewed baby food brand (Brandwatch).
Organix. Robust growth of 31% as organic remains a popular sector for parents it became third-biggest baby food brand replacing HiPP. NPD included launch of Mighty Meals range in July 2011.
Heinz. Remains market leader with £55m sales in baby and finger food although this was down slightly on previous year. It bucked the trend in the drinks sector growing more than 17% and taking more than half the segment.
HiPP. One of the few brands not to benefit from the organic badge, its share has fallen more than 26% in the food sector (down to 12% share in 2011) as advertising and NPD tailed off in 2010/11.
Cow & Gate. Its share of the baby food market dipped slightly (-0.7% 2010 - 2011) and in drinks it fell almost 4% however it is fighting back with a new TV campaign 'feed their personalities' featuring real children recruited through its Facebook site.
Source: Mintel