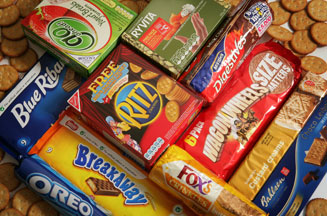 Sweet biscuits have long had a role in the UK as a pick-me-up. As a result, their sales hold up well in times of economic hard-ship.
This year the overall value of the UK retail market for this sector will reach £2.1bn, according to Mintel. Between 2007 and 2009 the value of sweet biscuits' sales grew by 11.7% and non-sweet by 16%.
The recession has not dented the trend for indulgence, and premium lines remain popular. Affordable treats are a key element of the grocery sector and upmarket sweet biscuits fit that criterion, especially as an in-home, evening indulgence.
The sector has come under pressure as healthier eating has gained momentum. In response, biscuit manufacturers have reduced the saturated-fat content in their products. Healthier ranges have added value and are now the biggest segment of the market.
Nestle has relaunched its 99-calorie biscuit range that includes Breakaway and Blue Riband bars. These offer a sweet option with the benefit of clear portion control and take on the competition from chocolate confectionery.
Similarly, United Biscuits has modified the recipe for its McVitie's Hob-Nobs and Digestives so they have 50% less saturated fat than previously.
Non-sweet biscuits are a smaller section of the overall market, with a value of £363m compared with sweet biscuits' £1.8bn in 2009. Manufacturers have been reducing the salt content of many of the brands in this category to help shore up their position against healthy-snack competition from fruit, nuts and seeds. Crackers and crisp-breads make up the majority of savoury biscuit sales.
United Biscuits is the market leader with a 22% share of sales. It is owner of the leading brands in both the sweet and savoury categories including McVitie's Chocolate Digestives and HobNobs among the sweet options and Carr's and Jacob's in the non-sweet.
Its NPD activity has included the addition of an upmarket chocolate biscuit selection under the McVitie's brand called Masterpieces. Its Go Ahead range continues to be aimed at health-conscious shoppers and Muesli variants were added to this last year.
Kraft has stepped up its game in the UK since it reacquired brand rights in Europe from Nabisco in 2006 for pro-ducts such as Oreos and Ritz. It has sought to introduce the US approach of 'twist, lick and dunk' to British consumers shoppers with its £4.5m marketing campaign for Oreo last year. However, while the sandwich biscuits are an integral part of childhood in the US, and have met with success in China, it remains to be seen if they can challenge the likes of custard creams in the UK.
Own-label is strong in savoury biscuits with value for money being a high priority for consumers when they are purchasing crackers.
In this category, Ryvita, a subsidiary of Associated British Foods, has a wide range of biscuits with Crispbreads, Thins and Minis variants. This year it introduced redesigned recyclable packaging for better standout and, despite the controversy over her gastric-band-aided weight loss, the brand continues to use TV presenter Fern Britton as its champion.
According to TGI, women are more likely to eat biscuits than men (penetration is 86% among women compared with 80% for men), but men eat sweet biscuits more often. The growth in the over-55 age demographic will benefit the sector as older consumers tend to be keen biscuit eaters.
By 2014 the total biscuit market is forecast to reach a value of £2.5bn, according to Mintel - a 15% increase from 2009. Taking inflation into account this equates to a 5% rise over the period.
Savoury Biscuits by Value and Share
Rank
Brand
2008
2007
2006
% change
£m
%
£m
%
£m
%
1
United Biscuits
80
23.3
70
22.4
63
20.7
27
2
Quaker
49
14.3
46
14.6
46
15.1
6.7
3
Ryvita
35
10.1
34
11
33
10.9
4.9
4
Kraft Foods
15
4.4
12
3.8
10
3.3
50
5
Nairn's
10
2.8
9
2.7
9
3
7
6
Kallo
9
2.6
10
3.2
11
3.5
-15.1
Own-label
139
40.5
125
40
124
40.7
12.1
Other
7
2.1
7
2.2
9
3
-19.7
Total
344
100
313
100
305
100
12.8
Source: Mintel estimates