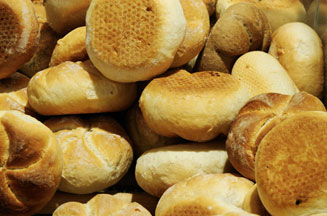 Bread is a staple of British diets but there are many pressures on this sector. Consumers are making efforts to eat more healthily, and high wheat and flour prices are pushing up the costs of raw materials.
Home baking is enjoying a renaissance and the popularity of bread-making machines means that some people are opting to make their own rather than stock up on the traditional supermarket sliced loaf.
Breakfast foods have also taken a hit in sales, as people spend less time at home sitting down to the first meal of the day. Many adults skip breakfast altogether, claiming a lack of time. However, British tastes are becoming more sophisticated as continental-style eating moves into fashion. Small morning goods, such as croissants, bagels and pastries, are common-place, and benefit from being able to be eaten on-the-go with little or no preparation.
Purchasing behaviour is changing, and consumers are buying bread products less often. Daily sales are on the decline, and volume sales have been hit by competition from products such as cereal bars.
However, despite these obstacles, overall sales of bread and morning goods have performed well. They have increased by 30% over the past five years to reach a value of almost £4bn in 2008, according to Mintel. Bread accounts for two-thirds of the market.
Value growth has been steady over the past five years, most significantly since 2007. This reflects the premiumisation taking place in this sector, as shoppers venture beyond the basic sliced white loaf.
As people are urged to eat more fibre and wholemeal, white-bread sales have declined as consumers modify their purchasing to accommodate healthier eating. However, premium bread options, which are often wholemeal or granary and seeded, may be affected if shoppers keeping a tight rein on their grocery spending decide to switch to cheaper varieties such as white bread.
Standard white loaves now account for only 32% of value sales and 40% of volume sales. They have been hurt by the premiumisation effect, yet continue to outsell wholemeal, granary and brown bread.
Speciality and ethnic breads are growing steadily. Italian loaves, such as ciabatta, focaccia and other flat-breads, have posted significant rises in sales, as have tortillas and wraps, albeit from a small base.
Other ethnic breads such as pitta have risen in popularity as alternatives to the sandwich. Pitta has also benefited from being used as an accompaniment to dips.
While some brand manufacturers have invested in the sector and promoted themselves heavily, it is dominated by own-label, and much of the NPD has been driven by the multiples' products. Own-label accounted for a quarter of sales in 2008, up from 23% in 2006.
Warburtons is the leading branded bread and morning goods manufacturer, commanding a quarter of the market. It makes much of its heritage as a family bakery business. In the past few years, the brand has focused on extending distribution from its northern base, as well as responding to consumers' desire for healthier opt-ions with launches such as Healthy Harvest White Loaf and Wholemeal Fibre Boost. It also introduced a mid-sized 600g loaf last year.
Allied Bakeries' Kingsmill's healthier additions have been its 50/50 brand and Gold Seeds & Oats.
Premier Foods has invested heavily in the Hovis brand, and in 2008 created an epic television spot promoting its 122 years in business.
Notable performers among the niche brands have been the Maple Leaf Co., with its New York Bagels, and the Food Doctor, which has created a strong positioning with its health-conscious bakery products.
Over-65s are some of the keenest bread-eaters, so the fact of Britain's ageing population bodes well for the sector. In light of the recession, bread benefits from its multiple price points as well as its position as a cheap, comforting food.
By 2013, the bread and morning goods category is expected to have reached a value of £4.8bn, a rise of 23% from 2008, according to Mintel. While it does not match the performance of the previous five years, with food inflation taken into account, this is still a growth of 12%.