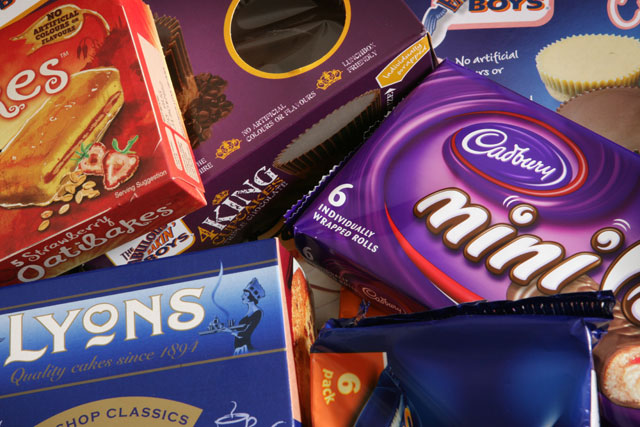 Five Key Trends

Home baking. High profile TV programmes such as The Great British Bake Off and the celeb chef phenomenon have boosted home baking with 56% of cake eaters seeing it as a good way to save money.
Frequency. This is a well-established snacking market with sales predicted to reach £1.14bn in 2012; 77% of adults said they eat cakes in 2011. However consumption is less frequent than in other categories.
Sharing. More than half of users (51%) think cakes and cake bars are a good snack to share, tapping into the sharing occasion has proved highly successful for other snack categories such as crisps.
Own-label. Retailer own brands dominate this category and brands have struggled to make their mark. Combined brand share is less than half of all sales (47%).
Commodity prices. Rising commodity prices have forced up retail prices which is a problem with only 34% of users thinking manufactured cakes offer value for money. Price is the most important factor for consumers when buying cakes followed by flavour.
Population changes. The rapid growth in over-45s probably represents the best growth opportunities for manufacturers. Although use of cakes drops with age, heavy users are most evident in the over-45s, and even more in the over-65s (27% eat cake 2-3 times a week).
Source: Mintel
Estimated brand shares in the cakes and cake bars market, 2010-12
Source: Mintel
Choice factors when buying cakes and cake bars, April 2012
Base: 1,500 internet users aged 16+ Source: GMI/Mintel
The Industry's Main Players
Michelle Wilde, brand director cake, Premier Foods
Wilde has been at Premier Foods since June 2006 and her role covers its cake brands such as power brand Mr Kipling, Lyons, and Cadbury. Prior to joining Premier she worked as marketing manager for Campbell Grocery Products.
Sandip Gudka, director McVitie's Cake Company
The role of director of McVitie's Cake Company has been Gudka's since 2010. He joined United Biscuits in 2004 in the legal department before moving in 2006 to look after emerging markets for UB International as global business development manager.
Hannah Legg, marketing director, Thorntons
Legg has been with Thorntons for nine years. She was head of Thorntons Direct, responsible for the website and corporate sales, before taking on the role of marketing director. She originally joined the chocolate company as part of the commercial sales team. She worked at L'Oreal UK before joining the chocolate manufacturer.
Winners and Losers in the cakes and cake bars sector
Fabulous Bakin' Boys. With a wider variety of formats and flavours for its cakes, FBB achieved strong growth – up more than 17% (2010 - 2012). Its growth plans are to double its £20m sales within three years.
M&S. Like many retailer brands M&S does well in the cake market but it is the best performer in terms of overtrading on cakes and cake bars. It has an 8% share of own-label cake sales.
McVitie's. In terms of NPD private labels dominate but McVitie's was the only brand to have a notable presence in new launches and it saw some growth in 2011.
Mr Kipling. Although the largest brand in the market with 16% of sales, it saw a slight decline in sales (2010-2012) with 2011 a particularly tough year. It has introduced many changes to improve its fortunes in 2012 with new product launches, management reshuffles and 'great little ideas' advertising campaign.
Source: Mintel