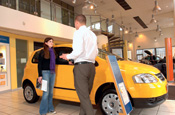 Motoring has also become a political minefield as the requirement to cut CO2 emissions means measures are having to be introduced, but higher vehicle excise duty or additional road pricing schemes cause uproar from the motoring lobby and opponents.
New- and used-car sales have slipped in 2008, although they increased 4% between 2003 and 2007 to £37.5bn, according to the Office for National Statistics. So far this year, volume sales of second-hand cars have fallen and new-car registrations have also dropped, down 1.6% in the first half of the year, according to the Society of Motor Manufacturers and Traders.
In 2003 the Block Exemption came into force, shaking up the sector. The regulation, designed to boost competition in car sales and repair and make new car prices comparable across Europe, appears to have favoured the bigger dealer multiples. There has been consolidation in the sector, which looks set to continue as fewer cars are being sold. In the past 10 years, 15% of UK franchised dealerships have closed.
Consumers remain interested in buying cars, despite the economy: GfK NOP research shows that one in four plans to buy a new or used car in the next two years. Most claim the credit crunch will not affect their plans.
Car dealerships are often the first port of call for those looking for a new car, and many have a loyal clientele. Customers trust their levels of support and reputation, and are prepared to pay extra for the reassurance they offer, in stark contrast with the persistent image of dodgy second-hand car dealers.
Online sales have had an impact on this market and several companies have established an online presence, but, in the main, consumers use the web to research rather than to buy. Many dealers offer online search tools.
The leading car dealers in the UK are Pendragon, Inchcape and Lookers, all of which have been acquisitive in the past couple of years. Tight margins mean dealers operating on a bigger scale are best placed to make a profit.
Pendragon, the biggest group, took over Reg Vardy in 2006. This expanded its position in the used-car market, and broadened its geographic presence. Its retail brands are Stratstone, at the luxury end, and Evans Halshaw.
Inchcape bought European Motor Holdings in February 2007, expanding its regional presence. It has about 150 dealerships covering a range of brands, but it focuses on the premium end.
Lookers has a similar number of dealerships and operates a decentralised model. It bought Dutton Forshaw last year, adding seven Ford dealerships.
The company also has two car supermarkets, a format developed as a way to offer multiple brands of nearly-new cars at lower prices in one location. The leading brands in this area are Carcraft, Car Giant and Motorpoint.
Mercedes-Benz, Ford, Renault and Peugeot also own and operate networks in the UK; online, Autotrader.co.uk and Ebaymotors.co.uk are popular.
The 25-34 and 45-54 age groups are set to grow over the next five years, but there will also be a decline in the number of 35- to 44-year-olds during this period, so, overall, the key car-buying demographic will stagnate.
By 2013, used cars sales are forecast to have grown by 14% to reach £40.5bn, while new car sales are expected to decline by 17% to £27.4bn at current prices, according to Mintel.
UK franchised dealer networks by marque and outlets
% change
2007
2006
2005
2004
2003
2003-07
1
Ford
537
550
594
589
597
-10.1
2
Vauxhall
405
412
428
436
451
-10.2
3
Peugeot
301
301
308
319
333
-9.6
4
Renault
244
320
331
311
298
-18.1
5
Volkswagen
223
223
229
237
242
-7.9
6
Citroen
203
206
205
211
220
-7.7
7
Honda
195
195
200
200
191
2.1
8
Toyota
190
190
186
182
183
3.8
9
BMW
150
151
159
156
155
-3.2
10
Audi
117
126
115
117
118
-0.8
Source: Sewells/Mintel
Manufacturer shares of new-car registrations
2007
2007
2005
2005
2003
2003
%change
0
%
0
%
0
%
03-Jul
1
Ford
349
14.5
347.6
14.25
378.9
14.7
-0.2
2
Vauxhall
331.3
13.8
317.4
13.01
326.4
12.7
1.1
3
Volkswagen
197
8.2
185.5
7.6
179
6.9
1.3
4
Peugeot
146.1
6.1
144.3
5.92
184.9
7.2
-1.1
5
Renault
126.8
5.3
174.7
7.16
189.4
7.3
-2.1
6
BMW
121.6
5.1
111.7
4.58
93.8
3.6
1.4
7
Toyota
118.5
4.9
122.5
5.02
117.5
4.6
0.4
8
Honda
106
4.4
98.3
4.03
81.9
3.2
1.2
Total
2404
100
2439.7
100
2579.1
100
-6.8
Source: SMMT/Mintel
Top UK car dealers by outlets, turnover and share
2007
2007
2007
2005
2005
2005
Outlets
Turnover
Market
Outlets
Turnover
Market
£m
share %
£m
share %
1
Pendragon
262
4565
6.6
219
2955.6
5
2
Inchcape
149
2646
3.8
90
1530.3
2.4
3
Sytner Group
135
1978.7
2.7
90
1569.2*
2.4
4
Arnold Clark
136
1873.4
2.9
138
1669.8
2.6
5
Lookers
145
1680
2.4
92
1231.6
1.7
6
Mercedes-Benz
40
1221.3
1.8
40
1261.9
1.8
Retail
7
Jardine Motors
61
937.6
1.4
50
953.1
1.5
8
Camden Group
7
809
1.2
n/a
n/a
n/a
Source: Mintel