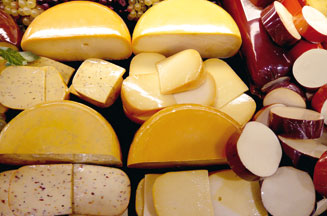 The humble block of cheese is a shopping-list staple - nine out of 10 adults eat it
- but those with a serious cheese habit will have noticed a significant price rise over the past couple of years. This has been brought about by the rising farm-gate price of milk from an average of 21p a litre in 2007 to 26p a litre last year, which has had an effect on the price of all dairy products.
Despite some shoppers trading down to cheaper options or buying smaller pack sizes, the sector is generally bearing up well. In 2008, the cheese market was worth £2.1bn, and this figure is expected to be nearer £2.2bn this year, according to Mintel.
While the rise in prices has led to growth in value sales, volume sales have remained relatively steady. Last year's total of 374,000 tonnes was equivalent to 6kg a head, which is significantly lower than in France or Italy. Cheese remains an essential food item for many, with more than half of all adults eating block cheese at least two or three times a week, according to TGI.
Cheese is also caught between two camps in terms of the bigger trends affecting the food industry: its high
fat content means it may be avoided or eaten less by those trying to follow a healthier diet, but its provenance claims and natural credentials mean it appeals to those looking to reduce their consumption of artificial ingredients.
Health concerns have meant a boost in demand for low- or reduced-fat cheese options: four in 10 adults say they are following a lower-fat diet, according to TGI.
Cheddar has accounted for about half of value sales for several years. However, soft cheeses have gained ground (sales rose 36% between 2004 and 2008), as have UK territorial cheese such as Wensleydale and Cheshire (up 29% over the same period). Meanwhile, perhaps as a result of healthy-eating concerns, processed cheese's market share has dropped 7.5% over the past four years. As many such products are aimed at youngsters, the category has also suffered since Ofcom rules restricted the advertising of products high in fat, sugar and salt during children's TV programmes.
Cheese is most likely to be used as a sandwich filling or eaten with biscuits. Mature and specialist cheeses tend to be eaten after a main meal or with crackers, but the rise in cooking from scratch has also been beneficial to the sector, as cheese is an adaptable cooking ingredient.
The under-35s are the heaviest consumers of cheese, but families are also crucial purchasers, especially for children's lunchboxes, where mild and inexpensive cheeses are often favoured.
There are some notable brand names in this sector, but own-label commands the biggest share, with just over 60% of value sales.
Kraft-owned Philadelphia is the leading soft-cheese brand and has been supported by substantial adspend over the past couple of years to consolidate its position. However, Kraft's Dairylea brand has suffered, and it relaunched Dairylea Bites, promoting them as
free from artificial colours and preservatives to reassure parents.
Dairy Crest's Cathedral City and Davidstow have helped it expand its share of the market. Last year, the manufacturer added to its range Cathedral City Vintage 20, an extra-mature cheese positioned as a more premium product, as well as repackaging its Lighter version for better differentiation.
Bel UK's range includes Babybel, Leerdammer, Port Salut and Boursin. Its Babybel, Laughing Cow and Cheez Dippers brands are very much aimed at the children's lunchbox and snacking market. In 2008, it launched Laughing Cow Giggles mini-cheese pods, aimed at pre-school children.
By 2014, the market is predicted to be worth £2.5bn, a rise of 16% compared with 2009, according to Mintel. When inflation is taken into consideration, this represents a more modest increase of 5% over the period.