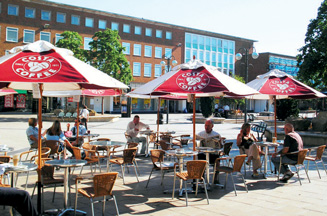 The fight for the hearts and minds of Britain's coffee drinkers has stepped up a gear recently as the coffee-shop chains battle to persuade cash-strapped consumers not to dispense with their morning cappuccino. Such is the competition in these straitened times that comparative advertising tactics have been adopted, promoting one company at the expense of another.
This technique, used more often in the highly competitive world of mobile phones or low-cost airlines, now forms the basis of Costa's strategy, with press ads boasting 'Sorry Starbucks the people have voted'. The ads go on to describe how research has shown that seven out of 10 coffee-lovers prefer Costa's cappuccino to Starbucks'.
The use of this type of promotional message may not be surprising, given the current climate. There has been significant consolidation within the coffee-shop sector and, although it has enjoyed a period of sustained growth, the recession is likely to have an impact on this kind of discretionary spending. The market showed resilience in the last recession, but now faces greater competition from pubs and fast-food outlets offering cheaper alternatives.
Coffee-shop products were once aspirational, and a well-prepared coffee was seen as an affordable treat. However, with rapid expansion the market has become commoditised. There is little differentiation among leading brands, which tend to be caught between a premium and value positioning. This is something Costa is trying to address with its latest ads.
The market, which is defined as outlets where coffee is the primary sales item, continued to grow in 2008. This was mostly down to the continued expansion of the main players: Costa, Starbucks and Caff? Nero. The sector reached a value of £1.2bn in 2008, according to Mintel.
However, sales in 2009 are likely to be more modest, with a slowdown in comparable store performances and less aggressive store-expansion plans from the leading companies.
While the rate of expansion may ease somewhat, there is still room for long-term growth in the UK market. The level of coffee consumption here remains low compared with more mature markets such as the US and other European countries.
More than half of UK adults visit coffee shops, but most do so infrequently, according to TGI, so there is certainly room to increase penetration levels.
The high streets may appear chock-a-block with coffee stores, but alternative locations, such as supermarkets, motorway services and retail parks, offer potential for growth.
Moreover, while the big names appear to dominate in many environments, there is significant competition from non-branded outlets, with a high number of independents doing good business on the high street.
In addition, sandwich shops, pubs and fast-food chains such as Pret A Manger, Subway and McDonald's, present further competition.
Other pressures are present in the form of overheads. In the past few years the cost of coffee, staff and utilities has risen, putting added strain on the sector.
Whitbread's Costa has been the most aggressive operator, and now has more outlets than Starbucks in the UK. However, the latter has a bigger turnover, thanks to higher average sales per outlet. Costa's aim is to open 200 more outlets by the end of this financial year.
Starbucks is taking a more cautious approach, explained in a trading statement at the beginning of the year. It will focus on raising traffic in existing outlets and shut loss-making stores.
Despite concerns over the recession, Mintel predicts the coffee-shop market will reach a value of £1.5bn by 2013,a rise of 32% on 2008. Even allowing for inflation, this is a 15% increase in value over the next five years.