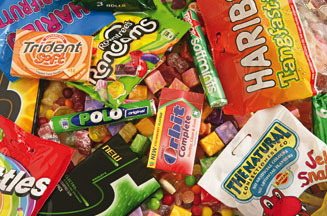 Nostalgia brands have often done well in confectionery because people associate them with fond memories, comfort and treats from their childhood.
Adults may enjoy secretly chomping on Drumsticks and have welcomed the brief reintro­duction of Opal Fruits, but the current generation of children has its diet scrutinised to ensure it doesn't overload on sugar, salt or fat.
Sweets can no longer be advertised during children's programmes, and schools are not permitted to sell them on their premises. What does this mean for the sector that encompasses sugar confectionery, mints and chewing gum? Despite external pressure on the market from rising concerns about health and diet, it is growing. Mintel estimates that by the end of the year it will be worth more than £1.7bn, up 7% since 2004.
However, consumption among seven- to 10-year-old children is falling back, according to TGI. Snacking in the UK, is changing with traditional options such as crisps, sweets and chocolate being challenged by healthier foods such as cereal bars, fruit and nuts. While growth has been strongest from the latter contenders, crisps remain the most popular alternative to sugar confectionery.
This sector could do well to look at how crisp manufacturers have impro­ved their products for health-aware consumers, and appealed to adults as the children's market has declined.
Sugar confectionery is the biggest category in the sector and has perfor­med the best, with sales increasing 11% in the five years since 2004. Chew­ing gum has increased slightly by 2% since 2007, while sales of mints have fallen by 8% over the past five years. Preferences are split among dif­ferent age groups: mints are favoured by the over-65s; under-45s opt for sweets; and gum is preferred by the under-25s.
The chewing-gum market shows just what innovation can do. It has successfully broadened its position as an oral-hygiene product to extend its customer base. Cadbury's sugar-free Trident brand launched in 2007 and intro­duced flavours and gel-filled gum to appeal to teenagers and young adults.
The strong performance of Cadbury's Trident and the launch of its Natural Confectionery Company in the UK helped it overtake Nestlé in 2008. The Natural Confectionery Company range, which comprises animal-shaped jellies, free from artificial additives or flav­ours, is aimed at younger children.
Mars' purchase of Wrigley last year will make it the biggest player in this market accounting for about a quarter of sales value. It added 5, a premium range from the US, to its chewing-gum portfolio this year in three flav­ours: Cobalt, Electro and Pulse. As well as chewing gum, Mars' biggest brands are Skittles and Starburst and much of its innovation has focused on extending these two lines. This has resulted in the roll-out of Star­burst Twisters and Smoothies Chews, the latter made using real fruit juice.
Many big brands have made efforts to remove artificial flavours and colouring from their products. Haribo uses no artificial colours across its range, which includes Maoam; Swizzels Matlow meanwhile has stopped using them this year in its retro sweet range, which includes Refreshers, Love Hearts and Parma Violets.
Nestlé's brands include favourites such as Rowntree's Fruit Pastilles, Jelly Tots, Tooty Frooties and Polo. Its biggest launch this year, Randoms, is being heavily advertised on TV and positioned to challenge Haribo.
Changing demographics may affect manufacturers' strategies. The 15- to 19-year-old group is declining; that of five- to 14-year-olds is expand­ing slowly. Considering the restrict­ions on children's advertising, NPD may need to focus on adults to boost growth.
Over the next five years, Mintel predicts that sales will grow by 9% to a total value of £1.9bn. How­ever, in real terms the sector will be virtual­ly stagnant, falling by 1%.