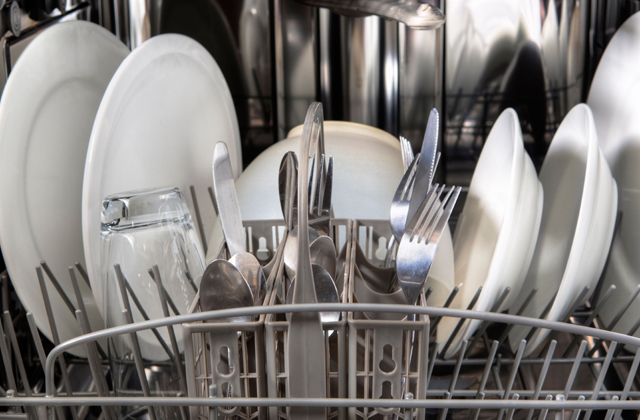 Product premiumisation and NPD are two features of the dishwashing detergents sector. As the number of households owning a dishwasher has increased (up 42% in 2010), most innovation has occurred across detergents for machines.
Between 2005 and 2010, the combined dishwashing detergents market grew by 24% to an estimated value of £460m, according to Mintel. Of this, dishwasher detergents accounted for £256m, compared with £204m for hand dishwashing products.
This sector includes pre-wash products as well as dishwasher ancillaries such as salt, rinse aids and dishwasher cleaners and fresheners.
As consumers spend more time at home and dine there more frequently, greater quantities of dishwashing are generated. Although shoppers look for savings, this is not at the cost of performance, so market share for brand leaders has held up.
Premium innovations
Two manufacturers dominate this market: Reckitt Benckiser (RB), with its Finish brand, and Procter & Gamble with Fairy. The former focuses on the automatic dishwasher segment - in fact, it does not offer a hand product - while the latter has a greater presence in hand dishwashing detergents.
All-in-one tablets have been the focus of development over the past few years in the machine segment, with more premium products, such as five-in-one tablets, booming. While this means that the price has risen, it has also led to a decline in sales of separate ancillary products.
The most recent version of Finish has been the Powerball QuantuMatic automatic detergent dispenser, which lasts for 12 loads and has a counter showing the number of washes left and when it needs to be refilled, for the added convenience of users. With this innovation, consumers do not need to dose with detergent every wash.
One high-profile absence from the sector is Unilever, which withdrew its Persil washing-up liquid last year as part of a brand rationalisation. It had about 3% market share of the washing-up liquid category by value.
Fairy is a long-established and trusted brand. Along with its 'kind to hands' positioning, it has claimed environmental benefits such as reducing waste, because of the concentration of its washing-up liquid, and conserving energy, by enabling its dishwasher detergents to be used at lower wash temperatures.
Ecover has carved a strong niche as an environmentally friendly brand, but sales have fallen recently as the recession has dented consumers' dedication to green credentials. TGI research found that while 16.3m (a third of) adults would pay more for an environmentally friendly product in 2010, this was 2.7m fewer than in 2006.
That said, when it comes to claims made for new products, the most likely ones in 2010 were 'environmentally friendly packaging', followed by 'environmentally friendly product' and 'economy', according to Mintel GNPD.
Own-label has a strong presence in this sector, accounting for about 24% of sales. Although its share has remained relatively stable in the washing-up liquid market, in dishwasher detergents its share dropped from 28% in 2006 to 24% in 2009, according to Mintel.
Retailers' own-brand share is hampered by consumers' perception that they are not as effective at cleaning dishes as branded products. So, while almost half think own-label detergents are good value, three in 10 do not think they perform as well as branded options, according to GMI research.
With special offers so prevalent, more than two-thirds of shoppers stock up on branded products when they are on promotion so the price premium is less apparent between branded and own-label.
The ownership of dishwashers is expected to rise, as is the number of one-person households - these tend not to have dishwashers, but use washing-up liquids instead.
However, many of the innovations taking place in dishwashers centre on them being able to handle bigger loads, thereby washing more items with less detergent.
So Mintel predicts the value of this sector will be £563m by 2015, up 22% on 2010, with the strongest growth in the automatic dishwashing segment. When inflation is taken into account, however, this sector will be relatively static. Innovation will continue to centre on performance, fragrance and being gentle on the hands.