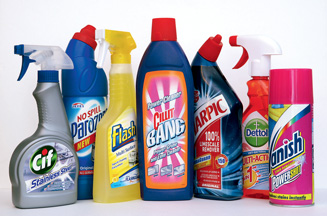 Cleaning the loo is unlikely to feature on anyone's list of favourite pastimes, but the task has to be done nonetheless. However, almost a third of men in the South East say they have never cleaned a toilet, as do 24% of men over 45, according to a survey conducted for cleaning products brand Spontex.
So, despite decades of equal opportunity and the rising number of women working outside the home, the responsibility for household chores continues to fall mostly to them.
The way in which people clean their homes has changed, however; rather than tackling the housework only at the weekend, more now adopt a 'little and often' approach, spending between one and one-and-a-half hours on chores on weekdays. As work takes up more of people's time, they are more likely to spend blocks of spare time on leisure activities than cleaning.
The recession has also affected the household cleaning sector. This year its value has dropped to an estimated £540m from £552m in 2008, according to Mintel.
Brands have engaged in heavy price-promotions to try to persuade shoppers not to switch to own-label or cheaper alternatives. It is an easy area for cash-strapped consumers to save in; while cutting back on food has a direct effect on people's daily pleasures, the impact is not the same if cutting back on cleaning products. Over the past 12 months, 9m adults claim they have cut back on spending in this area, according to BMRB.
Another trend over the past few years has been a shift from specialised cleaners toward multi-purpose ones. Growth of these products is expected to be about 2% this year. Multi-purpose cleaners occupy less space and cost less than buying several products for different tasks. About a third of new products now fall into this category.
Functionality is a key motivator of purchases, so innovation has tended to focus on speed and effectiveness. Two-thirds of adults say they look for 'something that works'; dealing with germs is also important for four in 10, according to BMRB.
There may be a link between the reduction in time spent on cleaning and the fastest-growing segment being household fresheners. Consumers looking for quick-fix solutions could be hoping to mask the lack of genuine cleaning by introducing aromas into the home. Another trend is for 'hands-off' products that do their work without the need for physical intervention, such as toilet-cleaning tablets. These products all tap into the significant proportion of the population that can be described as 'reluctant cleaners'.
The green agenda has grown in this sector and the success of Ecover and Method products shows there is a demand for more environmentally friendly offerings. Yet this remains a niche market, and with little price promotion, it fails to attract those shoppers who seek out special offers.
Reckitt Benckiser is the leading manufacturer in the sector and has increased its market share over the past couple of years. It has spent heavily on advertising and invested in NPD to achieve this. Its leading brands are Cillit Bang, Dettol and Harpic. The first of these is positioned as a tough-acting cleaner and introduced a multi-purpose variant in 2008.
Procter & Gamble has also increased its market share. Its brands include Flash, the leading brand in the multi-purpose and kitchen segment. It has recently focused on promoting its green credentials through innovations such as introducing environmentally friendly packaging for its Flash Lemon Scented Multi Surface Wipes, as well as adapting to interior fashions with products based on natural ingredients for use on specific surface types.
Next year Mintel predicts that the market will remain static, returning to growth in 2011. However, the growth will be modest: by 2014, it is projected to be worth £562m, a rise of 4% on 2009, or 2% when inflation is taken into account.