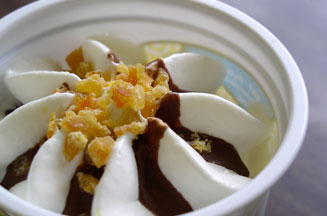 The appeal of an ice cream that can be stored at room temperature until it reaches home is obvious from an energy-saving perspective. So when reports emerged in August that Unilever, the UK's biggest ice-cream manufacturer, was investigating such a product, it was bound to spark interest. However, while this may be one aspect of its research programme, Unilever was quick to deny that it is seriously developing the idea.
Nonetheless, NPD is rife in this sector, and Unilever, which owns the Wall's, Cornetto, Viennetta and Solero brands, has been at the forefront. While ice cream requires more energy than many foods for production, storage and transport, most NPD is focused on flavour variants and healthier versions that do not compromise on taste. These have included lower-fat ice creams as well as options with high fruit content.
On the healthy-eating front, the trend for clearly defined portion control has also spread to this sector as demonstrated by the introduction of Magnum Minis this year.
However, the biggest headache for manufacturers especially in the UK market, remains the weather.
Ice cream is a highly seasonal purchase (up to 80% of sales occur in the summer months). Wet summers, such as those of 2007 and 2008, therefore affect the market considerably, and impulse sales, which fell by 11% in 2007, generally take the brunt.
However, Brits enjoy their desserts, and ice cream fits into the 'permissible treat' category for many. This will have helped the sector build its value to an estimated £1.3bn by the end of the year, according to Mintel, up 8% on 2007. When inflation is taken into account, though, it equates to a 3% drop in value.
Producers have looked for ways to boost year-round consumption, and the indulgent dessert message aids this, as people look for a tasty treat in the home, regardless of the weather outside.
About 40% of consumers say they eat ice cream all year, and product launches have increasingly been spread out, rather than solely in the pre-summer period.
Prices have been pushed up by a rise in commodity costs, with milk and fuel being particularly affected. So while this has had an impact on the value of the sector, volumes fell 3% between 2007 and 2009 as retailers' promotional activity moved from buy-one-get-one-free to money-off deals.
Premium and luxury ice-cream segments have performed most strongly, as they have satisfied the indulgence trend as well as being where many manufacturers have concentrated their NPD efforts.
General Mills' Häagen-Dazs and Unilever's Ben & Jerry's have carved out strong reputations at the upmarket end. This year, Häagen-Dazs launched the first luxury ice-cream smoothie, while Ben & Jerry's extended its Phish Food flavour into frozen yoghurt.
Chocolate snacks dominate the impulse sector, and this is where most NPD has occurred. This year, R&R, which has the licence to produce Nestlé ice cream, introduced Lion ice-cream bars and Kit Kat ice-cream cones.
Penetration remains good, with three-quarters of the population eating ice-cream, according to TGI. However, people are not consuming it as often as they once were. Just under half of ice-cream eaters restrict themselves to enjoying it once a month at most.
The growth in the over-55 age group is good for ice-cream manufacturers, as they are the demographic most likely to ensure they always have ice cream in their freezer.
In contrast, this is not such good news for manufacturers of sorbet and frozen yoghurt, as older consumers have not been won over by these lower-fat options. However, given this age group's desire to maintain its health, there could be an opportunity for better promotion to highlight the benefits.
By 2014, the ice-cream sector is predicted to be worth almost £1.5bn, a 12% increase on 2009, according to Mintel. When inflation is taken into account, however, it is a relatively static market, rising just 1.3%.