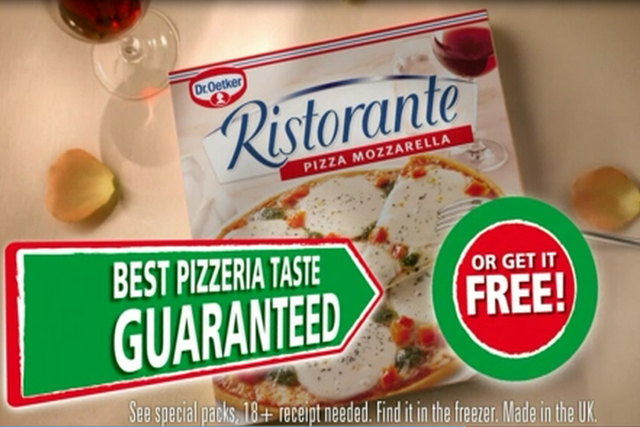 Trends
Household staple. Pizza is now a regular on many household menus with penetration high: 70% of adults used pizzas in 2011.
Value. Pizza is seen as a good value meal option by more than half of its buyers (55%) which has put it in a good position in this economic climate.
Demographics. Britain's aging population doesn't benefit pizza as only 44% of over-65s ate pizza in the past year compared with an average of 70%.
Takeaway. The take-home pizza market faces stiff competition from the restaurant and delivery channel which saw 20% growth (2006 - 11).
NPD. New pizza products accounted for 2% of total NPD in food in 2011 but despite this 21% of users thought there was a lack of exciting flavours.
Advertising. 2011 saw a record high in terms of advertising spend on the category – £7.2m in 2011 – building its profile and visibility as a meal option.
Source: Mintel
Frozen-pizza brands by (£m)
*Includes Casa di Mama and Ristorante
Source: Mintel
The industry's main players
Jan McKee, marketing director, Frozen division, Dr. Oetker UK.

After 13 years with RHM where she ultimately looked after the frozen food portfolio, McKee joined Dr Oetker. The German-owned Dr. Oetker's brands include Chicago Town pizza, Ristorante and Onken yogurt.

Andrew Elder, head of marketing, pizza, Goodfellas


Elder joined the company in 2010 and is responsible for marketing across all brands. He oversaw the implementation of last year's 'The 'Italian Way' campaign on Goodfella's. Elder has previously worked in innovation and marketing roles at Premier Foods, Interbrew and Kellogg's.




Harriet Rhys Williams, Director of Retail, PizzaExpress


Rhys Williams joined PizzaExpress in 2008 and has consistently delivered double-digit sales growth for the brand. She started her career as a strategy consultant at McKinsey & Company before holding various marketing director and managing director roles at RHM, responsible for brands like Bisto and Sharwoods.





Giles Jepson, chief marketing officer, Heinz


Following Matt Hill's promotion to president of Heinz UK and Ireland, Jepson took over the top marketing role in May. Jepson's been at Heinz since 2008 in a number of marketing roles and has also worked at Lindt&Sprungli, Colgate Palmolive and Thomson Holidays.


Winners and Losers in the pizza sector
Own-label. It has grown share of the frozen pizza market to take 38%, an 8% increase in value sales between 2010 and 2011.


Chicago Town. Remains the biggest brand in the frozen pizza market with a quarter of all sales and grew more than 3% in 2011. Disappointing sales of its Edge to Edge range prompted the brand to replace it with Deliciously Deep in April.
Dr.Oetker. Was the fastest growing frozen pizza brand in 2011 with sales rising almost 9%. Has two sub-brands Ristorante and Casa Di Mama.
McCain. The company which made McCain Pizza Fingers and Micro Pizzas pulled out of the UK pizza market this year because of poor volume sales.


Goodfella's. Sales declined 11% in 2011 although it has been fighting back with new launches such as the lower-calorie Delizia range it launched in February and Flavour Fellas, a range of thick-based pizzas aimed at students and saw sales stabilise in 2012.


Source: Mintel