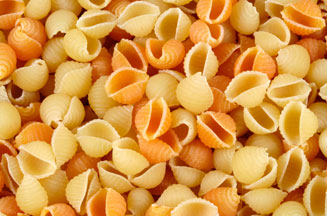 Noodles, rice and pasta form the base of many dishes from around the world that have found their way into the British diet. The humble potato has competition on its hands as spaghetti Bolognese has become as much a family staple as sausage and mash.
The sector's value has grown by 22.5% over the past two years and Mintel predicts it will reach £1.4bn by the end of this year.
Not all this value growth is down to increased sales; global shortages of rice and durum wheat, and rising commodity prices have resulted in significant price inflation for these goods.
In response, some supermarkets introduced limits on how much rice shoppers could buy last year, to prevent shortages being caused by stockpiling.
Innovation has also influenced growth, with products coming in up-dated packaging formats and offering easier preparation. Convenience continues to be an important factor for shoppers and this sector lends itself well to ready-to-cook options.
Pasta remains the biggest category, accounting for £811m of sales in 2009, including pasta ready-meals - more than rice and noodle sales combined. Sales of rice, however, have shown the strongest growth; up 32% between 2007 and 2009. This compares with growth of 21.4% for pasta and 11.5% for noodles in the same period.
This sector seems to be prospering despite the recession, as consumers opt for comfort foods. Both value and premium products have been boosted as some consumers cut their shopping budgets, while others, who are perhaps eating out less, buy expensive goods as a 'treat replacement'. The revival of home cooking and the rise of healthier eating are also benefiting this market.
The penetration of pasta and noodles has been constant over the past four years but there has been a rise in the purchase frequency. Many people have moved from being light users (buying products two to three times a month) to medium to heavy users (buying more than once a week), according to TGI. ABC1 families are the most likely to be heavy consumers of pasta.
Within rice, basmati remains the biggest dry rice sub-category. Speciality rice, such as Arborio, used to make risotto, is also selling well. However, the perceived difficulty of cooking rice continues to deter many from buying dry rice and ensures that sales of microwaveable packs remain buoyant (up 56% between 2006 and 2009). Premium brands, such as Tilda's Steamed Basmati range, are doing well in this category, while products such as Veetee's Dine In range, launched in 2007, tap into the market of those cutting back on eating out.
While Tilda and Veetee are building share, Mars' Uncle Ben's continues to be the dominant rice brand.
There has been growth across all pasta categories, with the value of ready meals increasing by 22% over the past three years; dry pasta has also risen in value. Fresh pasta sales, mean-while, have benefited from the growth of stay-at-home premium diners.
Sales of dry noodles bounced back in 2008 as shoppers returned to them in preference to the more expensive 'wet' variety. Pot Noodle has carved a niche for itself as an instant snack aimed at 15- to 24-year-olds, while Sharwood's and Blue Dragon offer more authentic versions.
Health has helped drive NPD across the market, leading to more whole-grain and organic variants. Own-label has become more dominant as the multiples have tempted value-seeking shoppers with widespread promotions.
De Cecco is the fastest-growing pasta brand, although Napolina remains the market leader.
The pasta, rice and noodle sector is forecast to continue to grow over the next five years. By 2014, it will be worth £1.8bn, according to Mintel - a rise of 25.5% since 2009. Taking inflation into account, growth is still a healthy 14%. This is despite demographic shifts meaning a rise in the number of over-55s - the age group traditionally least likely to eat these foods.
Rice Brands by Value and Market Share
Rank
Brand
2009 est
2008
2007
2006
% change
£m
%
£m
%
£m
%
£m
%
1
Uncle Ben's (Mars)
135
35
123
35
115
39
91
34
48.4
2
Tilda
46
12
42
12
36
12
34
13
35.3
3
Veetee
17
4
6
2
3
1
n/a
n/a
4
Risso Gallo
5
1
5
1
5
2
4
2
25
Own-label
118
30
108
31
70
24
71
27
66.2
Others
67
17
69
20
66
22
65
25
3.1
Total
388
100
353
100
294
100
265
100
46.4
Source: Mintel