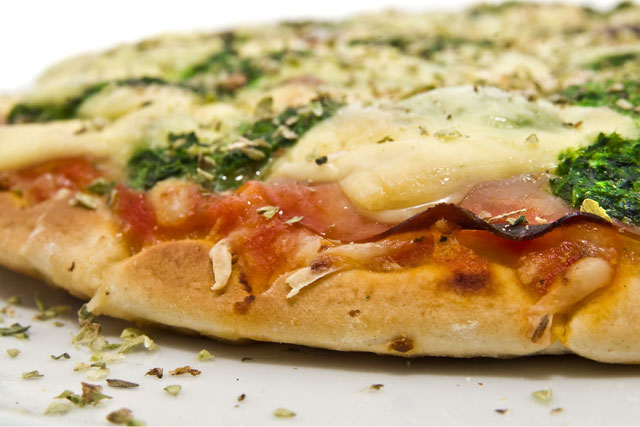 Shop-bought pizza is proving a rare grocery success story in challenging retail conditions. Pizzas, both chilled and frozen, have held their own in the recession, as shoppers see them as being convenient, affordable and something of a treat, particularly among the young and in family households. Price promotions have also helped keep volume sales strong.
About seven in 10 British adults ate pizza in 2010, according to TGI. While there are successful brands in the market, such as Chicago Town and PizzaExpress, it is own-label products that have led NPD activity in the chilled segment, and now account for the biggest share of sales. Chilled pizzas accounted for 58% of NPD in 2010, compared with 41% for frozen.
Mintel's senior food analyst, Alex Beckett, has a word of warning for the sector, however. 'The pizza market sacrificed genuine innovation to prosper during the recession,' he says. 'But it must now rekindle excitement to accelerate consumption levels and inspire a value sales growth that is not based on cost inflation.'
Between 2006 and 2011, the value of pizza sales rose by 22% to reach an estimated £825m, according to Mintel. The market value of chilled pizza is expected to reach £415m this year, overtaking frozen at £410m. Rising ingredient prices have affected pizza manufacturers - the price of wheat, for example, has increased by 150% in the past 10 years. Nonetheless, the sector has been buoyed by consumers opting for shop-bought pizzas as a cheaper alternative to pizza restaurants.
It also faces competition from the takeawayand delivered-pizza market, which appears to be performing well, with Domino's and Papa John's recording strong sales growth.
The Chicago Town brand has tried to mimic some of this success; its Takeaway sub-brand has packaging that resembles a delivery box. It has also brought out limited edition pizzas, such as X Factorand World Cup-themed variants.
Own-label accounts for 35% of frozen-pizza sales, but brands have fought back to a degree. Dr Oetker's purchase of the Chicago Town brand in 2008 and its subsequent sales increase is an example. It now has a 24% share of the frozen segment. In 2010, Dr Oetker added Casa di Mama to its frozen range, which is positioned as matching the quality of chilled pizza.
However, research by Toluna shows that consumers see price as the most important factor when buying frozen pizza, while the flavour or topping is most vital for chilled pizza.
Pizzas are not associated with healthy-eating trends, as they tend to be high in calories and fat. However, there has been a trend toward thinner crusts, which allow manufacturers to push a healthier message (as well as saving on ingredient costs).
In 2010, PizzaExpress changed its Vitabella range to include a lighter base, and this year, Northern Foods' Goodfella's brand opted for a thinner crust base for its Flatbread pizza.
A mere one in five pizza buyers looks out for lower-calorie pizzas, according to Toluna research, with even fewer bothering to check the fat content. However, 43% of consumers say they would buy a pizza with a wholegrain crust, and 39% would go for one with reduced salt content, so there is clearly room for more imaginative healthier credentials to be introduced in products in the category.
One demographic that pizza manufacturers have failed to engage with is the over-65s. Only four in 10 over-65s have eaten pizza at home in 2010, according to TGI; almost half the percentage of 15-24-year-olds who did so. This is an issue for brands and supermarkets, because the number of over-65s is increasing, while there is a drop-off in other age groups.
Focusing on the quality of ingredients may be one way to better connect with older consumers, as six in 10 over-55s rate the quality of ingredients as the most important factor when buying chilled pizza.
By 2016, pizza sales will have reached the £1bn mark, according to Mintel predictions. This is a 20% increase on 2011 values. The continuous focus on more premium products is expected to benefit value.