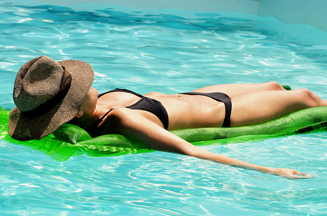 Efforts to educate people on the importance of protecting their skin from the sun's rays have been widespread and, in the main, effective. While the UK's recent cold snap will mean most consumers' thoughts of protection from the elements have centred on the snow, wind and rain, rather than the sun, those lucky enough to have been skiing should have been slapping on the Factor 30.
Despite some winter sun-seekers and winter-sports enthusiasts stocking up on supplies in the colder months, the suncare market is very much focused on sales in the summer.
The growing number of people taking their holidays abroad in recent years has bolstered sales, but there's nothing like a long, hot summer on these shores to drive shoppers to continually replenish their sun lotion supplies. So it is not surprising that the two recent poor summers have had an adverse effect on sales.
The suncare market was estimated to be worth £289m in 2008, a 12% increase on 2003, according to Mintel.
The 'be safe in the sun' warnings have hit home with most people, and higher-protection factor products have sold better. While the over-35s and those with children are good at applying protection, men and under-24s are least likely to heed the message. There is, therefore, still work to be done as cases of skin cancer - one of the UK's fastest-rising types of the disease - continue to increase.
Last year the EU issued new recommendations that, along with SPF numbers, brands should be labelled as offering low, medium, high or very high protection. However, this remains voluntary.
While consumers have avoided damaging their skin in the sun, they have not given up on a tan. Despite scientific evidence to the contrary, six in 10 women still view a light tan as healthy, according to Mintel. Sales of self-tanning and gradual tanning products have benefited accordingly.
Johnson & Johnson's Holiday Skin established the trend for mass-market gradual tanners. These products give a gradual build-up of a tan, with much less risk of the streaking associated with poorly applied self-tans. Self-tanners are the fastest-growing category, helped by improved formulations. Their sales have increased by 45% since 2003 to a value of £33m in 2008.
One trend emerging is for brands to focus on the ageing effects of exposure to the sun as an added incentive to apply sunscreen.
Children and families are a crucial target group in this sector, not least because 80% of skin damage takes place during childhood. While encouraging children to be slathered in sun block can be a trial for parents, the message being put out is how vital this is for children's long-term health.
Boots, a major innovator in this sector, is the leading retailer, and its Soltan brand the market leader. Its Soltan Once range, which requires only one application a day, has helped it push ahead of L'Oreal's Ambre Solaire. Beiersdorf-owned Nivea completes the market's dominant trio.
Recent innovations have included Ambre Solaire's Clear Protect range in transparent gel and spray formats, in 2007, and last year Nivea Sun added DNAge Face Sun Cream to its DNAge moisturiser range.
This market looks set to continue to perform well, and will be worth a predicted £305m by 2013, up 18%, or 11% when inflation is taken into account. However, this is expected to be a tough year for the sector as the recession means many will take fewer holidays, particularly abroad.
Suncare Brands by Adspend
Rank
Brand
2008
2007
2006
£
£
£
1
Garnier
3,745,532
5,862,963
3,602,991
2
Boots
3,079,593
2,577,489
1,613,928
3
Beiersdorf UK
2,330,005
2,517,037
2,103,204
4
L'Oreal Paris
2,124,462
2,036,378
2,398,331
5
Keyline Brands
733,884
578,513
481,851
6
Johnson & Johnson
525,678
553,884
829,786
7
Playtex
310,334
106,521
77,268
8
Coty
180,156
393,256
249,330
9
Superdrug
168,987
140,907
1,014,258
10
Clarins
4532
275,010
434,030
Source: The Nielsen Company