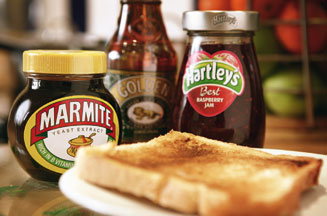 Bees are big news. Last year British beekeepers lobbied parliament for funding to research the phenomenon of colony collapse disorder, which has resulted in the disappearance of large numbers of honeybees from their hives.
If this continues it could have an impact on agriculture in gen­eral - not just honey production - as bees are needed to pollinate many crops.
Nonetheless, sales of honey have been extremely buoyant, rising 13% in the past two years to be worth £76m in 2008. UK shoppers have also acquir­ed a taste for chocolate/nut spreads, trad­itionally a favourite on the Continent. The categ­ory grew 70% between 2006 and 2008, helped by strong advertising from leading brand Nutella.
British consumers clearly enjoy a wide variety of top­pings and fillings; overall the spreads market is relatively evenly spilt between sweet (47%) and savoury (53%) categories. In 2008, the com­bin­ed market was worth £590m, according to Mintel.
Jam is the biggest category in sweet spreads, accounting for a third of sales. However, marmalade has taken a hit, as its customer base is mainly limited to older and more affluent adults, and there has been negligible investment in advertising in recent years.
Conversely, Marmite has produced bold and distinctive advertising with its 'love it or hate it' campaign, and there is certainly a significant base of shoppers who fall into the 'love it' camp. More than a third of adults eat yeast-extract products and Marmite engenders strong brand loyalty.
Sandwich filling is a key use of savoury spreads but there could be more opportunities for manufacturers to tap into the snacking segment. Consumption of all spreads is closely linked to bread sales, and fewer adults are eating bread once a day than in previous years, although penetration remains almost total, at 98%.
The value of chilled spreadables, which include pâtés, pastes and sand­wich fillers, has grown by almost 16% over the past two years to £191m.
When it comes to NPD, the wider trends affecting other grocery sectors have also been big drivers in this market. These include sourcing, provenance and fairtrade.
However, spreads also suffer from a perception of unhealthiness: sweet var­iants are seen as being full of sugar, and savoury as having a high salt content. This can work against the sector at a time when people are more aware of the nutritional content of their food.
Nonetheless, spreads have been less badly affected than some categories, as people opt for them on the grounds of taste and quality, rather than their health properties.
Premier Foods' brand Hartley's is the market leader in jam and marma­lade, followed by Andros' Bonne Maman. Hartley's has targeted smaller house­holds and occasional users with the introduction of 250g packs this year. Premier is stopping production of jam under the Robertson's brand to focus on Hartley's.
Honey is increasingly being posit­ioned as a superfood. Products such as Rowse's Active 10+ Manuka honey are claimed to have antibacterial prop­erties and offer diges­tive health bene­fits. Although Rowse is the leading brand, 60% of honey sales are acc­ounted for by own-label products.
Manufacturers have been hit by the restrictions on advertising foods that are high in salt, sugar and fat to child­ren, as well as guidelines on the types of foods that can be served in school canteens and in packed lunches. As a result they have been targeting parents.
However, there is room to expand this category further, with more imaginative suggestions for eating occasions beyond simply being spread on toast at breakfast.
Children under 10 and ABs are among the dem­o­graphics that are set to grow in the next five years, which bodes well for products that are pop­ular with families, such as peanut butter and chocolate/nut spreads. ABs tend to look for quality and naturally sourced ingredients in their products.
By 2014 the total market is expected to be worth £725m, a growth of 7% in real terms over the next five years, according to Mintel.
Sweet spread categories by value and share














2008
2008
2007
2007
2006








£m
%
£m
%
£m
%
change
1
Jam
96
34
90
35
89
35
7.9
2
Honey
76
27
69
26
67
26
13.4
3
Marmalade
50
18
51
20
52
21
-3.8
4
Peanut butter
28
10
26
10
25
10
12
5
Chocolate/nut spreads
22
8
17
7
13
5
69.2
6
Fruit/cheese curds
4
1
4
2
4
2
-
7
Syrup/treacle
2
1
2
1
3
1
-33.3


Total
278
100
259
100
253
100
9.9
Savoury spread categories by value and share














2008
2008
2007
2007
2006
2006
%




£m
%
£m
%
£m
%
change
1
Chilled spreadables
191
61
193
63
165
60
15.8
2
Cheese spreads
77
25
69
23
70
25
10
3
Meat, yeast and
44
14
43
14
40
15
10


vegetable spreads
















Total
312
100
305
100
275
100
13.5
Source: Mintel














Spread manufacturers by value and share
































2008
2008
2007
2007
2006
2006
%




£m
%
£m
%
£m
%
change
1
Premier Foods
43
29
35
25
34
24
26.5
2
Andros
19
13
17
12
16
11
18.8
3
Wilkin & Sons
11
8
10
7
9
6
22.2
4
Streamline Foods
9
6
10
7
10
7
-10


Other
6
4
11
8
13
9
-55.1


Own-label
58
40
58
41
59
42
-1.7


Total
146
100
141
100
141
100
3.5