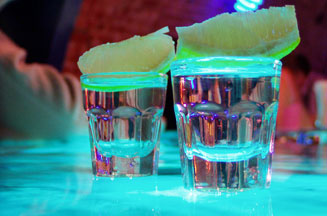 When it comes to the British and spirit-drinking, vodka leads the way; its sales having over-taken those of whisky in 2007. It is favoured by young drinkers in particular because it has little flavour and so can be easily mixed.
Between 2003 and 2008 the value of this market grew by 20% to £1.8bn, according to Mintel. The recession may mean slower growth this year, but the sector should remain reasonably buoyant. It has also been outperforming the wider spirits market, which dropped 7.6% during the same period.
Premium vodkas have returned particularly strong growth as drinkers try more upmarket brands. However, while growth in this category has been strong, it accounts only for about a 5% share overall. Flavoured vodkas account for a fifth of premium sales.
As with any alcoholic-drinks sector, vodka is affected by changes in the drinking culture. From people cutting back on consumption for health reasons, to pubs focusing on food as a way of alleviating the impact of the smoking ban, there are numerous external pressures.
The shift to food sales in pubs is not good for vodka as it is not a natural meal accompaniment. Another limiting factor is its weak association with home drinking. According to TGI, vodka drinkers tend to be younger and enjoy going out to bars or clubs. Older drinkers are more likely to drink gin or whisky.
However, as vodka is a common ingredient in cocktails, which are especially popular with women, there is ample scope for brand owners to promote the idea of mixing these drinks at home, thereby improving off-trade sales.
Vodka sales are also highly seasonal, with about half of value sales in the off-trade being made in the run-up to Christmas. Discounting by retailers during this period has had a negative effect on some vodka brands as lower-price offers to pull in customers have eroded their premium image.
As for the main players, Diageo's Smirnoff Red brand has grown its value in the off-trade and is the most popular brand overall. Absolut, bought from Vin & Spirit by Pernod Ricard in July 2008, is the biggest premium brand. To take on its upmarket rival, Smirnoff has added flavour variants to its range and relaunched its premium variant, Smirnoff Black. Meanwhile, budget brand Glen's has been growing its share of the off-trade with its value-for-money positioning.
First Drinks' Russian Standard is a relatively new entrant to the UK market but it has already established itself as a premium mainstream brand with £13m in sales in the off-trade. Vladivar was repackaged in 2008 to promote its heritage.
The rise in the number of Eastern Europeans living and working in the UK has had an impact on the brands available. Polish brands, such as Wyborowa and Soplica, have been imported specifically for this group, but their appeal has extended to other drinkers who are attracted by their apparent authenticity.
Future demographic changes offer mixed fortunes to this industry. Its core market of younger drinkers is projected to grow, but so too are the older age groups.
Over the next four years, the vodka market is predicted to maintain steady year-on-year growth. By 2013, it should be worth almost £2bn. How-ever, when inflation is taken into account, this reflects a drop in value of 8% over the period. Volume sales are expected to rise 15% between 2008 and 2013 so that the average price per litre will drop.
Vodka Brands by Total Adspend
Rank
Brand
2008
2007
2006
Expenditure £
Expenditure £
Expenditure £
1
Smirnoff Vodka
4,218,974
6,266,860
4,438,947
2
Russian Standard Vodka
3,047,654
1,837,514
0
3
Absolut Vodka
773,640
12,870
20,509
4
Smirnoff Black
416,960
3770
24,935
5
Vladivar Vodka
405,429
8978
15,825
6
Grey Goose Vodka
381,810
448,553
228,616
7
Belvedere Vodka
214,597
182,916
130,559
8
Smirnoff Copper Pot Still Vodka
137,668
140,599
0
9
Stolichnaya Vodka
74,984
405,159
13,306
10
Smirnoff Prem Vodka
7212
275,622
0
Source: The Nielsen Company