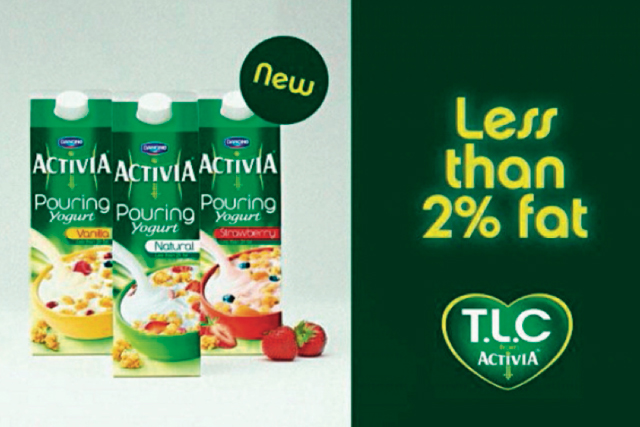 Trends
Healthy. More than three quarters of yogurt users consider it a healthy alternative to other treats.
Versatility. Spoonable yogurt is consumed as a snack, at breakfast, as a dessert, as a meal replacement and as an ingredient for cooking. Sales grew 23% between 2007 and 2011.
High penetration. With penetration at about 90% manufacturers must increase use occasions to encourage volume growth.
Yogurt drinks. Brands have been targeting a wider base with new flavours and health and wellbeing claims; however use drops considerably among the over-55s. Sales have dropped 6% since 2007 (£238m in 2012)
Brands. This is a highly branded market which drives NPD and is well supported with above-the-line advertising spend. Danone and Müller account for 60% of the spoonable yogurt market.
Value. With grocery budgets still being squeezed shoppers are following promotions in the sector which restricts value growth. Yogurt value is estimated to reach £1.82bn in 2012.
Source: Mintel
Leading brands in UK retail sales of spoonable yoghurt and fromage frais by value (£m)

Source:Mintel
Factors influencing choice of yoghurt and yoghurt drinks, March 2012 (£m)
Source: GMI/Mintel
The industry's main players
Michael Inpong, marketing director, Muller Dairy
Impong took over this role from Lee Rolston after a management shake-up in 2011. He had been marketing director at Lactalis Nestlé for four and half years before that and other marketing roles he's held have been at Procter & Gamble in UK and France and L'Oréal in the UK.
Ben Cull, head of brand marketing, Yeo Valley
In 2000 Cull joined Yeo Valley taking responsibility for consumer marketing and brand growth. He was behind the brand's first TV advertising, the Yeo Valley Rap campaign and subsequent work. Cull's previous experience includes Kerry Foods, Northern Foods and Sainsbury's.

Steve Clarke, marketing director, Lactalis Nestlé
Clarke became marketing director of Lactalis Nestlé following its acquisition of Rachel's. He had previously been marketing director of Rachel's between 2006 and 2012. In his current role he is also responsible for Nestle branded yogurts and desserts in the UK & Ireland. Prior experience includes working at United Biscuits and Gillette.
Winners and Losers in the yoghurt sector
Activia. In 2011 Danone's brand extended its lead over Muller Corner thanks to strong performances by Intensely Creamy and Greek Style ranges and above the line support with the Martine McCutcheon TLC campaign.
Rachel's. Sales rose more than 30% (2009 to 2011) and it has the benefit of its parent group Lactalis to help boost further distribution and development.
Muller Light. The brand lost sales in 2010 - 2011 (down 5%) although it remains highly active in NPD and fought back with a relaunch in 2011 and a thicker, creamier recipe and new flavours..
Total. Despite the popularity of Greek style yogurt the original has struggled with sales down 18% (2009 - 11).
Muller Vitality. Yogurt drinks in general had a difficult time in 2011 but Vitality saw sales decline 48% (2009 - 11) to slip into fifth place behind Yakult.
Source: Mintel