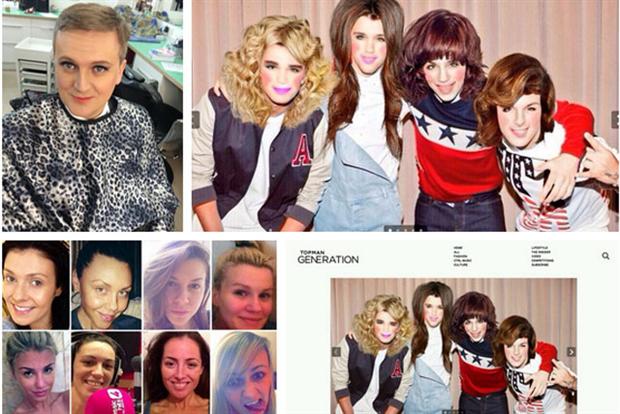 While the aforementioned traits are not those typically celebrated as virtues, the selfie has become massive, with consumers, celebrities and brands turning the camera on themselves and posting the result across social media.
Iain Matthews, head of planning at social media agency Jam, agrees that the popularity of the selfie is probably down to "a combination of narcissism and insecurity", adding: "It's interesting because in a sense, in social media as a whole there is a lot of motivation to be 'liked'. It gives you validation. The selfie is a very literal manifestation of that."
Reacting to what people are doing is a huge opportunity. But ultimately you have to do it in a way that is authentic and co-ordinates with what's out there
Selfies have generated their fair share of both positive and negative headlines. A prominent example of the latter is the online game NekNominate, which involved people filming themselves downing alcohol and which has led to several deaths.
But for brands, tapping into people's desire for approbation is rich with potential, Matthews says. "Reacting to what people are doing is a huge opportunity," he says. "But ultimately you have to do it in a way that is authentic and co-ordinates with what's out there."
Brands jumping on the bandwagon have had varying degrees of success. Samsung hit back at criticisms that it shoe-horned its way into the most shared tweet of all time, claiming Ellen DeGeneres "organically" incorporated the brand into her Oscars selfie, which was retweeted more than 3m times.
Meanwhile, camera brand GoPro used an image of a fan on the summit of Mount Everest - which was widely judged as a genuinely pithy and authentic example of a brand hijacking the trend; and Dove celebrated natural beauty in a short film about selfies shown at the Sundance Film Festival.
Cancer Research and #nomakeupselfie
In the UK, most famously Cancer Research UK recently generated £8m in donations within just six days because of a campaign that took the social media work by storm and had millions of women (and some men) posting pictures of themselves wearing no makeup and using the hashtag #nomakeupselfie.
It all kicked off one Tuesday in March, when women started posting pictures of themselves on Facebook without make-up. Parodies appeared too, with men and women posting pictures of themselves wearing an abundance of slap.
Cancer Research responded on its own Facebook page, with messages such as: "Thousands of you are posting #cancerawareness #nomakeupselfie pictures and many have asked if the campaign is ours. It's not, but we love that people want to get involved!"
The campaign was by all accounts a testament to the power of social media as a marketing channel. Wasn't it?
Strictly speaking, the answer is "no" – despite raising millions for Cancer Research, #nomakeupselfie did not start life behind the doors of the charity's marketing department.
In fact, no one seems clear exactly behind whose door it was conceived.
"It wasn't created by us or any other brand, or designed to be viral," says Nicola Dodd, head of PR and social media at Cancer Research UK. "It just happened and was driven by people power.
"We told them it wasn't our campaign, but that we loved the sentiment. Once they started asking us how they could support our work we posted and tweeted our own #nomakeupselfie with a text to donate code. And then people started donating."
Nevertheless, the resounding success of the campaign gives important lessons. And not necessarily all positive.
"There's probably a danger with any sales campaign that if it's about the message, then it's easy for the message to get lost," says Matthews.
Have a good reason to do it, and a set of rules, he adds. "Ultimately selfies are about self-expression and how people want to be represented. For a brand in a desirable category - makeup, jewellery, some FMCG brands - that are considered desirable it's easier for them to play in that space."
On the flipside, it is clearly harder for other types of brands. Financial services would struggle, for instance.
"Of course there are potential pitfalls," concurs Dodd. "But I'd say they are mostly around lacking authenticity – if you don't know your communities well, communicate with them often and thank them for their support, then you risk looking opportunistic."
But opportunism sometimes pays. Matthews cites a campaign that Jam ran last year for Sky's 'Next Top Model' series, which generated nearly 6,000 selfies and "drove a lot of pre-show buzz".
If you don't know your communities well, communicate with them often and thank them for their support, then you risk looking opportunistic
Fans of the show acted as the drivers of the campaign, building anticipation ahead of launch. The campaign was certainly far from hindered after research found that the show's target audience was "obsessed with themselves, literally".
The campaign launched with a 30-second TV spot featuring Dannii Minogue, with a coordinated push from the social media accounts of the show's judging panel. Fans were encouraged to post pictures of themselves for the chance to be crowned BINTM Insta-Model, with the winner announced during the first episode of the show.
It was clearly a success. The #BINTM hashtag garnered 12,889 mentions, 31% of which were about the competition, and the activity resulted in 5,721 competition entries.
Limited shelf life
Clearly the might of the selfie is correlated to the power it currently wields over consumers.
"Selfies have been a huge growing behaviour on the likes of Instagram and Facebook over the last nine to 12 months, with more brands jumping on that consumer trend and trying to adapt to suit them."
But he argues that the lifetime for selfies is far from limitless, that brands will continue to exploit them for the next six months or so until their shelf-life expires.
And then marketers will be on the hunt for the next zeitgeist. "If a trend comes your way, and there is an authentic way for you to get involved in it, then go for it," says Dodd.
"[The selfie phenomenon is] probably representative of our times," says Matthews. "People are disconnected in a real sense and connected in a digital sense."
So while the world's obsession with all that is digital continues to dominate, it is probably not a stretch to predict that the next 'big thing' after the selfie will be social media-related.