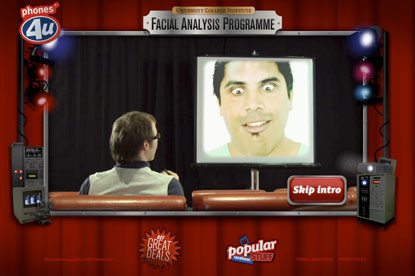 Russell Braterman understands how ironic it must seem that of all the methods employed by Phones 4u to reach its customers, mobile marketing isn't one of them.
Even print and posters figure only to a limited extent on the marketing director's media schedule because that not where our audience is. TV is where we have to be."
It's a strategy that has served Phones 4u well in carving out a profitable niche in what is a mature and highly competitive market.
The company, which claims to be the UK's fastest-growing independent mobile phone retailer, almost doubled its share of the pay-as-you-go market last year. And it has done so on a marketing budget of around £10 million - less than half that of its Carphone Warehouse rival.
Braterman believes these results stem from a tightly focused approach by Phones 4u both to the products it sells and to the 16- to 24-year-olds who form its customer base.
It's a strategy that's not been without critics, who predicted the retailer would suffer by not moving far enough beyond phones and on to other mobile communication and entertainment products. And Phones 4u targets a generation that's bearing the brunt of recession. Braterman insists that, while the company does sell other products, including laptops, it will not suffer for having made mobile phones its main raison d'etre.
"Mobile phones are becoming more, not less, relevant," he says. "In fact, the time is coming when they'll just be known as 'mobiles'."
But will Phones 4u's cash-strapped young customers be able to afford them? Braterman agrees that times are tough for the late-teen-to-twentysomethings, but points out that most are at a stage of their lives when disposable income hasn't been reduced to almost nothing by a family and a mortgage.
Moreover, he suggests that mobile phones are now such an integral part of modern life that young people won't sacrifice them, whatever their circumstances.
Having to constantly engage with this audience has led to a highly flexible approach to the way in which the company markets its offering. There are no protracted clearance procedures, meaning that a spontaneous and cheap idea can be quickly acted upon. Such as giving out free Bones 4u condoms to mark National Condom Day or Christmas wrapping paper featuring an Asbo Santa, gangster elves and a suicidal turkey.
"I tell my team that ideas are key and if those ideas are good, I'll reallocate budgets to make them happen," Braterman says. "We can turn on a dime."
The condom stunt - it attracted some 700 media stories, according to Braterman - is indicative of the quirky and irreverent tone of the company's communication, which was given fresh impetus by Braterman's decision to switch the ad account from WCRS to Adam & Eve just over two years ago.
The pitch was precipitated by the need to replace the campaign featuring the Jack, Scary Mary and Lazy Bob characters which, Braterman suggests, was beginning to show its age after five years on the screen. "WCRS didn't really seem to be up for that discussion and I knew early in the pitch process that Adam & Eve would probably win because of the way they engaged with us," he remembers.
Was he worried about becoming one of the first clients of a then new-and-untried agency, albeit one that turned into one of the most successful start-ups of recent years? "Adam & Eve suited our ambition because they were hungry and gave us access to their best people," he explains. "I knew the agency had a good pedigree. In fact, they've been so successful, I don't even know if they'd have taken us on now!"
Adam & Eve's first work on Phones 4u - offbeat commercials shot on a shoestring budget in locations such as Hampstead Heath and a Southwark council estate -reflected the austerity of the times.
"We made a virtue out of necessity," Braterman says. "The films may have been low-cost but they were tightly targeted - and they really delivered for us."
Having refurbished its 450 stores, Phones 4u now finds itself in more confident mode, one that's reflected in a marketing budget that continues growing. The increased investment is seen in glossier ads such as the one featuring Bangkok prison guards distracted by the charms of the Sony Ericsson Xperia X10 and the return of the familiar Phones 4u hand gesture. "It's a tremendous piece of brand recognition and you throw it away at your peril," Braterman warns.
Meanwhile, Phones 4u has moved further into programme sponsorship to get closer to its core audience. Adam & Eve and its media associate, The 7stars, recently brokered six-figure deals enabling Phones 4u to be associated with Channel 4's youth drama Hollyoaks and ITV's Harry Hill's TV Burp. "Hill is quirky and weird," Braterman says. "It's exactly our kind of environment."
Where this leaves Phones 4u compared with The Carphone Warehouse, with its 800-store network, is hard to say. Braterman says accurate figures are hard to come by but adds: "We believe our store sales are better and that we have a disproportionate market share."
In any case, comparisons are difficult given that The Carphone Warehouse sets out to be all things to all people. Braterman predicts that Tesco's mobile offering is likely to be a bigger challenge to Charles Dunstone's operation. "Tesco is a natural shopping environment for Carphone Warehouse customers," he points out. "But it isn't for most of ours."
But while Braterman is clear about his market and his strategy, he's under no illusions that in a company with commercialism rather than marketing in its genes, there'll be a price to be paid if he doesn't keep the momentum going. "There's always a risk my budgets will be cut if sales don't justify them."
The upside is that marketers get run on such a long leash that even Braterman sometimes admits that "I probably get more freedom than I should do." He may not want to shout that too loudly.
The Braterman lowdown
There's a small hotel ...
Russell Braterman reckons he learned a lot about marketing in his second job helping run Kemp Townhouse, a run-down building when he and his partner acquired it and now Brighton's only five-star boutique hotel. These days, his involvement is restricted to looking after the finances.
Deep in the heart of Texas
Glasgow-born Braterman spent his early teenage years in Texas after his father, a university lecturer, joined the "brain drain". He later returned to London to read for a maths degree.
The great smell of marketing
He got his first taste of marketing at Unilever's Elida Gibbs, working on brands that included Brut and Denim aftershaves. A two-year stint as a project manager at the Mountain View agency ended when he successfully applied for a Fulbright Scholarship to study for an MBA at Harvard Business School.
Upwardly mobile
The course included a couple of weeks with the Boston Consulting Group, an experience that led to his switch into management consultancy in London with McKinsey.
A job with WPP took him to Hamburg where he helped integrate new acquisitions into the group. He remained in Germany as a freelance consultant before taking the top marketing job at Phones 4u in November 2008.