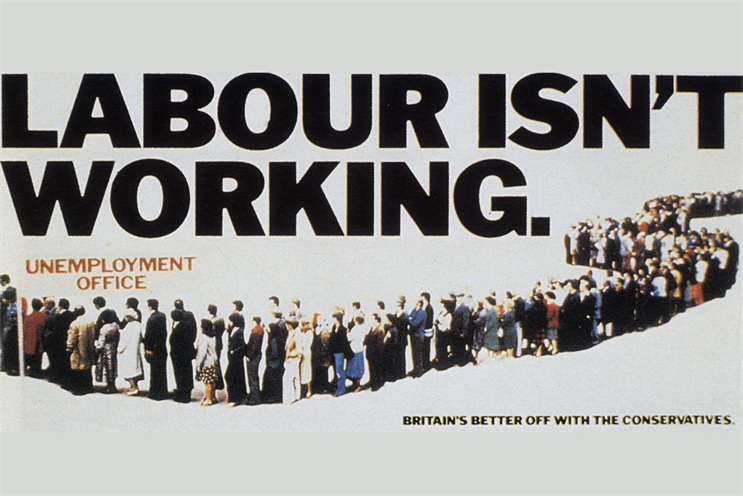 Jeremy Sinclair, the chairman of M&C Saatchi who worked on the "Labour isn't working" campaign that helped Thatcher win power in 1979, told Campaign: "Mrs Thatcher single-handedly lifted Britain out of the postwar doldrums. More than that, she bought great ads."
Meanwhile, Lord Bell, the Bell Pottinger Private chairman who was the managing director of Saatchi & Saatchi when Thatcher was elected as prime minister, said: "We'll never see the like of her again. She was one of the great prime ministers of all time and transformed people's lives."
Thatcher's approval of the "Labour isn't working" campaign had an impact on political advertising over the following two decades.
Sir Chris Powell, the former BMP DDB chairman, worked on a series of election campaigns for the Labour Party. He told Campaign in 2000: "You come up with a poster ['Labour isn't working'] with that impact once in a generation. Labour, quite rightly, wanted one. When we hadn't provided it, they started talking to all sorts of people."
Arguably, Thatcher's other contribution to the advertising business in the 80s was her aggressive privatisation programme that led to heavy spending on activity including Young & Rubicam's 1986 "if you see Sid, tell him" campaign for British Gas.
Despite the tributes from friends and former colleagues, national press reporting of Thatcher's legacy was mixed, ranging from the Daily Mail's front-page headline "The woman who saved Britain" to the Daily Mirror's "The woman who divided a nation".