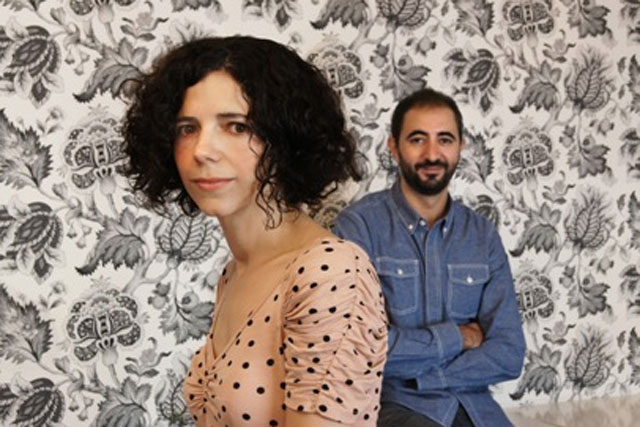 From this year's A List (published next week), we can derive that the best of the best do it all for the love of the people they work with. So we're sure that the headhunter LIZH, partner of the A List, is on the right track identifying Laura Sampedro, the director of strategic planning, and Carlos Alija, the creative director, at the Spanish agency Señora Rushmore as Tomorrow's Talent - potential A Listers of the future

The two liked working together so much that they formed an unusual creative-planner partnership. And they married each other.
This successful relationship has helped Señora Rushmore win global pitches for international brands including Coca-Cola and the International Olympic Committee. "They prove how different disciplines are now genuinely collaborating to develop exciting, engaging and innovative work. They are demonstrating the much talked-about change… in action," Liz Harold, the managing partner at LIZH, says.
Sampedro and Alija share how this unique partnership works and how new combinations of talent can lead to inventive work.
How did you meet?
Sampedro I wanted to be a copywriter, but I started out as a junior planner at Lowe Lintas, then TBWA, and then opened the planning department at BBDO Madrid. That's where I met Carlos, working on the Renault account together. We parted ways when I went to work on the Renault account at Publicis.
Alija Previously, I worked at Y&R, McCann Erickson, Publicis, then BBDO. On the Renault account, we were doing a surrealist style of work. Working alongside Laura, I came up with much better ideas. I wanted to work with her forever, so I married her. I moved to the independent boutique agency Señora Rushmore [now owned by WPP], but that didn't stop us sharing work.
S We had to work twice as hard because we'd come home and share everything. I ended up at Señora Rushmore because the projects ended up being both of ours.
A Now, we work together throughout the process, from client brief through to creative execution. It's surprising that most agencies still have such strict structures; same process, same meetings, same bureaucracy, same misunderstandings. Maybe it needs to be rethought.
S Everyone should get married like we did. It would make things a lot easier.
Is it a common way of working in Spain or particular to Señora Rushmore?
A We're not trying to say that everyone should work in the same way or that this is the future, but they should work the way that's most comfortable for them.
S I also work with other creatives, but obviously don't have the same relationship. It's unique to us.
A When most agencies are looking for talent, they look for a creative, a planner or a director. Not all agencies take the time to be more open to new combinations of talent. The wider your perspective and the weirder your combinations, the further you can go. We've seen that it works for our clients.
S The closer our collaboration, the better the work.
How does your partnership work in practice day to day?
S As a planner, I have a bigger role at the beginning strategic stages, but we share the whole process from beginning to end, from client brief to creative solution. Carlos is more involved in the execution, production and shooting, but the core moments of thinking and delivering the idea we do together.
A The concept for our latest work for Flex mattresses was: the more you use it, the better you feel. We did a bed-in with two "slow movement" activists that turned into an online TV show. It came not just from the creative, but Laura's background in sociology, which produced the content. Our partnership makes it easier not just to come up with the idea, but to make it happen.
S In the UK, there are great planners, but there's often a lot of ego, and conflict between creatives and planners. Working together, the strategy and the creative become one thing.
How do the UK and Spanish ad industries differ?
A Mainly production. It's impressive how well-crafted everything in the UK is, whether it's TV, a website or a Facebook app. It stands out.In Spain, we like to play with emotions more. When many people were losing their jobs, a campaign we did for Movistar involved people talking frankly about unemployment. It had a big impact. It may not have been something nice, but people found it moving.
Our previous campaign for Flex could have been a bit shocking; it features a baby being delivered. But, again, people were moved, talking about family, about being a mother, the importance of your own bed and your own home. Spaniards are less worried about showing emotions. It's cultural.
S We also tend to take ourselves more seriously. We have a different sense of humour to the British. There's also a big difference in economic investment.
A Our passion makes up for this, though.
What work are you most proud of?
A It's like your kids; you love all of them equally. The Flex birth ad was a great experience. The people in it weren't actors. We found a lovely couple, got to know them and were there the day their daughter was born. It was a touching as well as a great professional experience.
S It was a very powerful ad for a mattress brand, not only in terms of commercial revenues, but also from a social perspective in the conversation it provoked about home births.
A The Flex bed-in was also so integrated and so active, I think it was the strongest idea…
S …with both the digital aspect and content generation. I really liked the international platform that we developed for Coca-Cola as part of the "eat with your heart" campaign. We wrote the song for it too, which won an award.
Is there anything you don't do?
S You have to be able to multitask!
A Part of the fun of this profession is that you get to do everything: photography, film shoots, music. It's like being a little kid; it's fun. That's why we've never grown up.
S The post-digital future is for the multitaskers. It's not just about being able to write an ad; it's about creating a product, a TV show, branded content, or composing a national anthem for a football team.
A In the UK, you have money to pay specialists…
S …you can hire one guy just to do typography. In Spain, we are used to improvising!
What's life like outside work?
S We're too busy multitasking to have much spare time.
A Laura likes to people-watch.
S I'm the sort of person who likes to follow people. If I hear a conversation, I can't help following to hear the rest. It's a bit pathological. You have to be curious, though.
Are there any negatives to working together?
A [Long pause] Sometimes it's a little bit harder to disconnect from work when you're at home.
S We're a little obsessed with details and sometimes you just can't do that.
A Yes, sometimes you bring that obsession home, which is great in advertising, but sometimes it's better to be a bit more laid back in your personal life.
S It is difficult to disconnect. Even when you're on holiday, you can't help but look at the brands and how they advertise. But then that's true of everyone in the business.
A I never thought about the negatives before. This is like couples therapy.