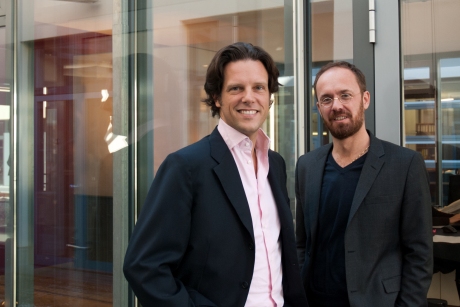 What comes to mind when you think of Munich? Oktoberfest? Mountains, castles and cosy beer gardens? Correct - all of that is part of the wonderful capital of Bavaria, where our agency group Serviceplan has its headquarters. But not only that! At the same time, Munich is also an international city with a strong economy and global companies such as Allianz, BMW, Infineon, MAN or Munich RE, to quote a few of them. Munich is a city with local yet global strengths.
Why am I telling you all of this? Because this mix of globalisation and localisation is not only important for a city such as Munich, it is also important for the advertising of the future.
Globalisation and localisation will be two of the five most important criteria for success. The reason is the "internetisation" of society that is also revolutionising marketing communications and which, in the future, will enable companies to operate at both local and global level with a great deal of skill and panache. In the future, local and global will go together like two sides of the same coin. As marketing and advertising professionals, it will be our job to make optimum use of these huge resources.
At Serviceplan - the largest owner-run agency in Germany - we have been preparing for this new challenge for the past five years. We are now also active in 19 locations in Europe, America and Asia - partly with our own branches and partly via stakes in other companies or in partnerships. We are making use of our globalisation in worldwide campaigns that simultaneously take local peculiarities into account. For this reason, we are not adapting - we are localising. In doing so, the internet stands at the heart of our cross-media strategies. It is the most important media and advertising platform of the future and will account for more than 50 per cent of media spend. To make our conviction clear, we are using the name of our digital agency for our worldwide business - and are calling ourselves Plan.Net International.
Below are what we think will be the five most important criteria for success in the advertising of the future.
1. Targeting
The individual consumer counts, not the target group. Our understanding of target groups will change completely. Socio-demographic descriptions such as "14/49" and "net household income from EUR3,000" will be replaced with quasi-individual consumer profiles. On the internet, anonymised profiles will be processed with their own contact histories - and these will form the basis of individualised campaigns. This aspect - targeting - is an extremely complex system that will bring about a long-term change in the relationship between the media, agencies and brands. The abstract value of a medium and the placement of advertising will no longer be in the foreground. These aspects will give way to the performance of a media brand, which will enable as many individual profiles as possible to be collected.
2. Moving image
The favourite medium of the people is becoming economically profitable. People's appetite for videos, clips and short films appears to be insatiable: three billion of them are viewed on YouTube every day. This passion supplies material for neurology. Neurology shows that the stories we remember most readily are those told using moving images. Our brains are not very suited to fixed messages, such as display ads, billboards and static banners, because our brains were shaped by movements in the savannah. Until now, the production and distribution of moving advertising images have been expensive, but thanks to high-speed internet, the use of video and similar media is now worthwhile. The proportion of advertising expenditure given over to it has been increasing by three figures for years - by 115 per cent in 2010 alone. For agencies and media companies, the appeal of the moving image represents a huge challenge for staff training and technical infrastructure.
3. Democratisation
Brands have to win over consumers with powerful content. "We're now on Facebook" is what we're hearing time and again, said as if it's an easy task.
Unfortunately, it's not that simple. People using social media rarely look at advertising. The click rate of a Facebook ad is one-hundredth of the rate achieved by a standard ad on the internet. People look at things online that they find funny - and ads are clearly not a part of that. This behaviour is forcing advertisers to ditch their "push" mechanisms and develop "pull" concepts. They are having to employ new methods, such as storytelling. Stories take brands and make media out of them, which are then able to create coverage. The trend makes storytellers and directors of copywriters and art directors. This development leads to a situation in advertising where content is king. We need content that is relevant for a brand (or no-one will pay for it), authentic (or it will be torn apart online) and, above all, entertaining (or it won't be used). Examples include the broadcaster BMW TV - a channel via which the car-maker transmits complex messages in an entertaining way - and children's TV programmes such as NinjaGo for Lego.
4. Spatial presence
Approaching consumers at a local level opens up new ad opportunities. Many companies think on a global scale. But, in contrast, the individual looks at things from a local perspective. Most of his mobile phone calls are to people based only three or four kilometres away. He is also fond of local services such as Foursquare, Layar and Groupon. However, most brands continue to be advertised nationally or globally. The reasons cited for this are the high costs of local advertising and the lack of local media outlets. But the localisation of campaigns, as well as technical delivery via mobile user devices or "digital signage" at the point of sale, no longer cause any problems and are affordable. For the first time, advertisers are able to create an individual brand space locally for every consumer,with mobile internet and geo-coding standing as trailblazers of a new style of advertising.
5. Globalisation
Worldwide advertising is becoming fast and flexible. Never before have the conditions for global communication been so perfect. For the first time, agencies are able to devise and implement communication strategies from one source, which is global but also attuned to the peculiarities of the markets concerned - and even able to address individual consumers. Being able to plan and implement with this new speed and flexibility will be some of the biggest creative and technical requirements of the future.
Companies and agencies wanting to be a part of this future have to shift their focus to digital - and master brand management on all channels in a global and local way. They must be prepared to enter into an honest dialogue with consumers, rather than a monologue. It is as if the advertising world has to turn into the exact opposite of itself. But it will rise to this challenge because of its two unswerving talents that will always endure: strategic elan and visionary creativity.
Florian Haller is the chief executive at Serviceplan Group.
---
AT A GLANCE
Founded
Serviceplan Group, 1970; Plan.Net International, 1997
Principals
Florian Haller, chief executive; Florian Freiherr von Hornstein, managing director; Dr Peter Haller, managing director; Ronald Focken, managing director; Alexander Schill, managing director, Serviceplan Group
Staff
1,200
Locations
Dubai, Liege, Paris, Vienna and Zurich. Took a stake in Liquid Campaign in Beijing, Delhi, Milan, Moscow and Seoul in 2011. Close collaborations in London, New York, Singapore, Sydney and Tokyo
What is the future for pureplay digital agencies?
Digital communication must form the core of all advertising strategies
Which movie title best describes your agency?
Never Say Never Again.