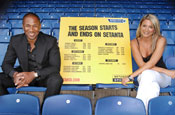 The offer comes as it confirms the initial 19 fixtures of its 46 exclusive, live Barclays Premier League games for the 2008/09 season, which include clashes between Arsenal and Newcastle, Spurs and Liverpool, and Aston Villa and Man Utd.

All new customers who sign up to Setanta Sports 1 on Freeview will be offered three months' free subscription, giving consumers access to premium sports at the lowest entry price possible.

Mark O'Meara, chief executive of Setanta Sports UK, said the offer "allows the widest audience possible access to Setanta Sports and our increasing range of top quality sport".

Setanta is also bringing down the cost of Freeview products capable of receiving its channels, at retailers Argos, ASDA, Comet, Currys, John Lewis, Sainsburys and Tesco. The offer is subject to a £14.99 connection fee. Setanta is also available for subscription from BT Vision and Top Up TV.

The Setanta Sports 1 channel has been broadcast on Freeview since March 2007. The company has live and exclusive rights to Barclays Premier League matches, FA Cup games, top-flight boxing and US PGA golf.

As of next season, Setanta will also be broadcasting World Cup qualifying games for England, Scotland, Wales, Northern Ireland and the Republic of Ireland, as well as England international friendlies.