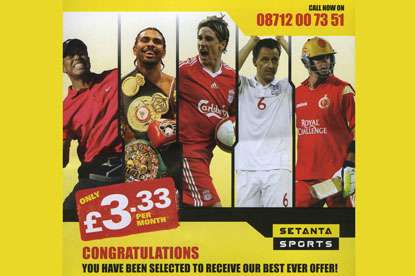 The broadcaster is offering existing subscribers live sports for just £3.33 a month, totalling £9.99 over three months, a massive reduction on the usual offer of £12.99-a-month for satellite subscribers.

Setanta is offering the package in an attempt to prevent subscribers from cancelling their monthly subscriptions during the summer period, which coincides with the end of the Premier League football season.
Its marketing activity, including targeted direct mail offers, is highlighting the range of sport that Setanta is offering across the summer, including England World Cup qualifiers, World Championship boxing and coverage of the US PGA Tour in golf.
Setanta said that it made the same offer last Summer and that it is part of a strategy to help customers avoid its £14.99 reconnection fee.
The latest subscription deal from Setanta coincides with the recent appointment of a new senior management team at the broadcaster, led by the chairman, Sir Robin Miller (the former Emap chief executive), who has been brought in to raise more funds from investors and restructure its contracts with rights holders such as the Football Association and the Scottish Premier League.