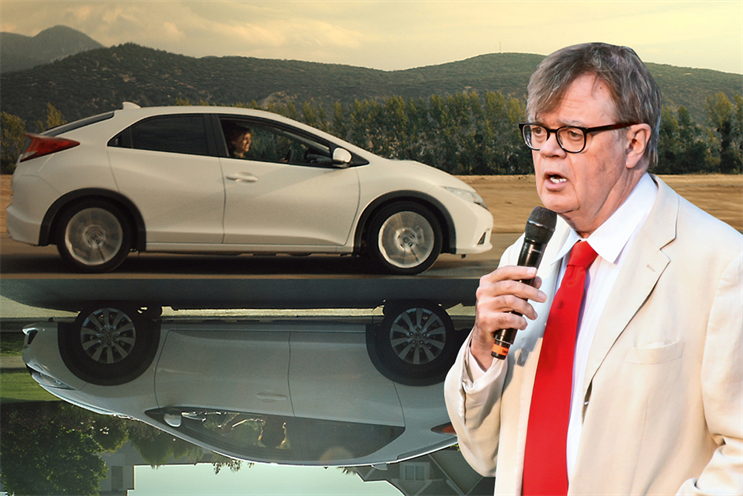 Punk is dead. Arguably, it has been for some time. That said, John Cooper Clarke doing the voice-over for the new McCain chips ad has got a small section of the Twittersphere practically shaking with pent-up punk rage.
I was having a look the other day, and quite a few of the comments start or finish with "WTF?!". I'm sure there was a similar kind of backlash in 1988 when he did that ad with the Honey Monster.
Fairly obviously, the choice to use Clarke was not one driven by PR, although it takes a bold client to approve and support a voiceover recommendation that will definitely create some negative comments.
The reality is that most people haven't got a clue who he is or care. It's possible that a few more have heard some of his stuff. Evidently Chickentown is probably his most famous poem and was featured in one of the closing scenes of The Sopranos. If you don't know it, it goes a bit like this:
The bloody train is bloody late
You bloody wait you bloody wait
You're bloody lost and bloody found
Stuck in fucking Chickentown
In fact, Clarke is in the throes of a little renaissance. Arctic Monkeys' Alex Turner has cited him as a huge inspiration and the bloke who liked his band's name enough for them to want to stick with it. Indeed, BBC Radio 6 Music reckoned he was the man to hold court on Christmas Day last year. High praise.
Whether all that means anything is rather a moot point. The real point is that he has a distinctive resonance and delivery that are pretty much unsurpassed. It's nasal, harsh and direct. It's bordering on strident. It stands out a mile, particularly against the irrefutably celebratory Oh Happy Day on the McCain telly ad. But it works – whether you know him or not.
Creatives have always sought to find (or add) a bit of "grit" to the execution of an idea in order to get the most out of it.
Trevor Beattie asserts that this is at the heart of getting the best voiceover combination: "The best VOs will jar with the visuals. You actually hear what is being said. But it has to combine with interesting words. Which is why the formulaic 'imagine a place/car/bog cleaner' delivery passes by unnoticed."
From the number of voice-over briefs that start with something along the lines of "nothing too ad-y", you would think there wasn't a living to be made if you were a standard voiceover artist. But, ultimately, most voiceovers are fairly inoffensive, unremarkable and forgettable. Which is one of the reasons why getting it right is so hard, but worth it when you do.
Garrison Keillor was, and still is, a complete unknown by name on this side of the pond. Yet his deep, rich, languid voice is as instantly recognisable to the Great British public as David Cameron's big, shiny face. It somehow carries a sense of wisdom and gravitas that, in many ways, defies logic. (I'm on about the voice of the Honda bloke, not the face of Dave.)
Keillor, who has a long and distinguished career in the US as a radio personality and author, has helped take Honda's communications to an extraordinary level. It is hard to imagine the success of that work with any other voice. While increasingly familiar, it was a simple bit of unexpected genius at launch.
And still is.
So what is it about the voice that has the potential to be so visceral, emotionally powerful and resonant? Or not?
In the world of linguistics, it's called prosody. More specifically, this is the rhythm, intonation and stress of speech. In old money, it's tone of voice.
In the thick of the day-to-day business of ad agencies and client marketing departments, tone of voice leads a double life. It's a section on a document, a brief or a PowerPoint chart. It's scoured over. It's tweaked. But, despite the hours of thought and exploration, it's only ever a proxy until it is expressed.
Listen again to Richard Burton narrate Dylan Thomas' Under Milk Wood for Volkswagen. I don't know what it said on the tone-of-voice bit of the brief, but I know there is a beautiful, stirring quality that evokes something between a chill and a wide-eyed, gleeful grin. It's a fair point to say that the copy is already brilliant, but the combination with that delivery makes it something else.
If you're not familiar with it, familiarise yourself. It will take 90 seconds of your time and your soul will thank you. And it's only a car ad. (Though it probably got a few Thomas devotees shaking with a degree of pent-up poetic rage.)
Dan Gregson is the managing director of Beattie McGuinness Bungay