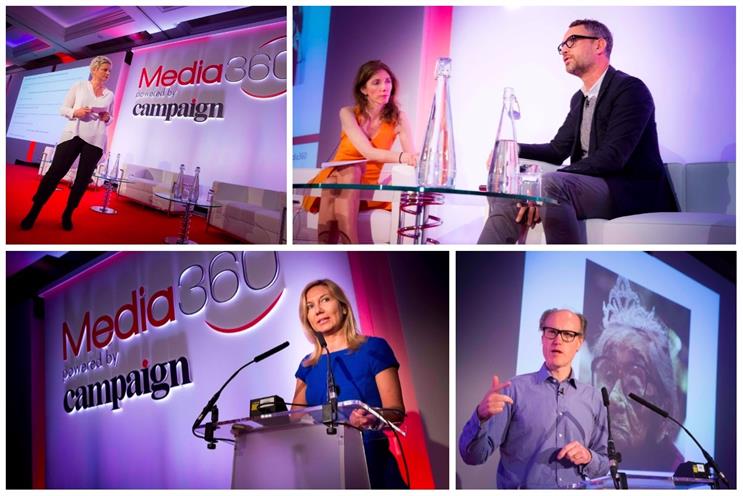 This was the big takeaway from this year's Media360 in Brighton where Philippa Brown, the chief executive of Omnicom Media Group UK, who chaired the conference, set the tone with her declaration that there is nothing new about uncertainty but the pace of change has accelerated.
Alistair Macrow, chief marketing officer of McDonald's, pointed out that brand transformation has to start with "fixing" the business fundamentals.
David Pemsel, chief executive of Guardian Media Group (above, top right with Campaign global editor-in-chief, Claire Beale), warned that businesses may "need to replan every quarter" because change is so rapid.
And Syl Saller, chief marketing officer of Diageo, argued that working with external partners can be liberating in helping to see "what's possible when you have no constraints".
The current business landscape has never been so exciting or challenging as two star guest speakers proved.
Will Gompertz, the BBC arts editor, gave an inspirational talk about why all of us are artists because creativity is a core part of our brain that no machine can match.
And Steve Richards (right), the political broadcaster and commentator, explained just how highly unusual the current political scene looks with "shy" Theresa May and perennial outsider Jeremy Corbyn facing off in the general election.
Still, some things remain constant and one of the oldest mediums, radio, won the annual Media360 challenge – the battle to convince the Media360 audience that your medium is the best of them all.
Here are Campaign's seven key takeaways from the two-day conference:
1. Brands have to make changes before they can talk about them
McDonald's has seen big improvements in the last decade in the proportion of consumers who say it can be trusted and sells quality food – but these advances would not have been possible if the brand had not done the groundwork, chief marketing officer Alistair Macrow (below) said.
"Our brand was on the wrong end of the emerging public health debate, and our trust scores we so low that anybody could say anything about our brand," he said. "Only after working hard at fixing the fundamentals did we create advertising focused on building brand trust."
2. It's time publishers treated their readers like customers
To build sustainable businesses, publishers have got to stop being complacent about having a large readership and start working out how to turn their readers into customers, according to the publisher of the Guardian's chief executive.
"Too often, publications have a big number of readers on digital, but they don't scrutinise the data," David Pemsel, chief executive of Guardian Media Group, said. "Data and knowing your audience is everything. Big readership numbers can make one complacent."
3. Use partnerships to challenge the paradigms of your business
Teaming up with entrepreneurs created opportunities to try things established companies might never do on their own, Diageo's chief marketing officer, Syl Saller, said. The drinks giant has invested in Seedlip, an English start-up producing the "world's first" non-alcoholic distilled spirit, but Saller said that if she had pitched the idea herself, it never would have been signed off by her boss, chief executive Ivan Menezes.
"When you raise category disruption ideas internally, they face a lot of hurdles because you're up against your own paradigms," Saller (above) said.
"Better to let somebody who has that idea show us what's possible. They have no constraints."
4. You can teach an old brand new tricks
Despite facing a "flat" UK chocolate market, Maltesers managed to more than double a 4% sales growth target thanks to its disability ads launched on Channel 4 last year.
Michele Oliver (main image, top left), Mars UK's vice-president of marketing, said it was the 80-year-old brand's most successful campaign in a decade. She told Media360 that brands had both a social responsibility and a business responsibility, which included a commitment to diversity in marketing.
5. Art is breaking the rules
Stop thinking that because the work you do does not conform to a certain artistic ideal, or definition of art, that it is not art, BBC's art editor Will Gompertz said. Gompertz (main image, below right) went on to outline how every great artist, from Edouard Manet, to Paul Cézanne, to Damien Hirst all broke the artistic rules of their day.
His conclusion: "Creativity is getting to the truth of things. Don't ask people what they think. No one knows what they think until you show them something new. Be like JJ Abrams. Worry about the problem, interrogate it for the truth, and boom."
6. Never treat an idea as finished
Despite all the promise and potential of data, it was the "least fearless type of experimentation", Nils Leonard, former chairman and chief creative officer at Grey London, said. "It doesn't ever make a leap because it keeps you on track. Now that's tempting when you run a brand – but it doesn't allow for fearless experimentation."
The answer, Leonard (above) said, was to "leave a hole" in your idea, allowing room for others to poke around, adapt and improve it. He added: "I look at it like a beautifully organised church that lets a naked bear in a hat run around."
7. New technology isn't everything
Social and mobile have both brought brilliant new opportunities for brands, but when it came to the question of which channel was best placed to build and amplify brand fame, Media360 attendees were clear – broadcast is the way to go.

After a feisty pitch contest with representatives from seven types of media, Lucy Barrett, client director at Radiocentre, won the argument for radio after detailing how the industry body had made Unilever's Keith Weed famous with its "Keith Weed rap". She finished on 35% of the vote, just head of TV on 33% – with the others sharing the crumbs.