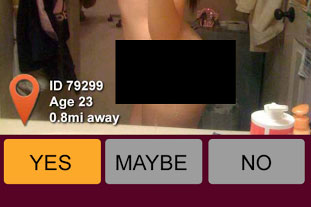 Two pop-up ads for "Affairalert.com", placed by Plymouth Associates Ltd, appeared in the 'My Talking Tom' app, in August.
One ad included a selfie of a naked woman with the words "Wanna fuck?" written on a mirror. Text below the image stated "Want to fuck her?" with the options "Yes", "Maybe" and "No".
The second image also featured a naked woman, with similar text.
Two parents of children aged seven and three years old who were using the app when the ads appeared, complained to the Advertising Standards Authority. They said the ads had been "inappropriately and irresponsibly placed" in a game likely to be played by children.
This is not the first time the makers of the game have been contacted by the ASA about explicit advertising. In June this year Outfit7 Ltd, which runs the app, was criticised after an ad for Ewank.com showed an image of seven naked women involved in sexual activity.
Responding to the complaint over Affairalert.com, Outfit7 said although their apps were not directed at children, they strove to be family friendly, and had a number of advertising restrictions in place. Outfit7 admitted that although they have a strict policy on advertising, they were unable to establish what network was responsible for the ad. Despite the similar case in June, it claimed the issue had not arisen again.
Plymouth Associates, the owner of Affairalert.com, claimed they had no role in placing the ad and believed a malicious third party may have been involved. They stressed that they would never intentionally allow an ad to appear in a place children could view it.
In its ruling, the ASA said they had received no evidence to suggest the ad had been maliciously placed.
The watchdog said: "The sexually explicit content of the ads and the product they promoted meant that they should not appear in media which might be seen by children.
We considered that the My Talking Tom app, in which the ads had appeared, would be of particular appeal to children."
The ASA said that Plymouth Associates must ensure their ads were targeted appropriately and did not appear in apps that were played by children in future.