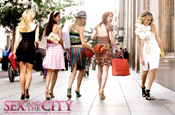 The campaign created by TBWA breaks on May 18 and will includes TV, outdoor and digital elements and is aimed at women who love indulgence. The TV work for the campaign was directed by Wendey Stanzler, one of the main directors from the smash hit TV series.
The campaign includes a quiz on the home page of Heatworld.com for people to determine which 'Sex and the City' character they are most like, a downloadable widget, which offers exclusive news and gossip about the movie, and banner ads with a live barometer to choose a preference between various options such as chocolate and sex or chocolate and shoes.
The outdoor executions will be seen on 6 sheets across the country as well as tube car panels and show the New York City skyline made up of Galaxy chocolate bars.
Steve Henry, executive creative director, TBWA said: 'By teaming Galaxy up with Sex and The City, the brand will be associated with the biggest media event of the summer. The sponsorship further establishes Galaxy as a brand that understands women but also uses the debate between sex and chocolate as a bit of light-hearted fun, meant to engage and entertain customers during the summer months.'