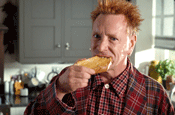 The dairy company said that the Sex Pistols singer had helped to increase volume sales of Country Life by 85 per cent during the third quarter of its financial year.

The campaign, created by Grey London and featuring Lydon, aka Johnny Rotten, dressed in tweeds, contributed to an overall sales increase of 4 per cent for the nine months to 31 December at Dairy Crest Dairies, which also produces Clover, Willow and Vitalite.

Mark Allen, the chief executive of Dairy Crest, said: "Our strategy of investing in marketing has enabled our key brands to continue with their strong performance."