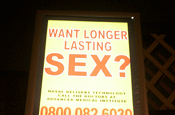 The poster, for AMI Clinic, received more than 500 complaints from people who believed it to be offensive and unsuitable for display in public places, including areas surrounding schools and those with a high Jewish population.
The ASA noted that the size and prominence of the message and the direct tone of the ad with reference to sexual intercourse could lead to widespread offence.
The poster must not appear again in its current form.