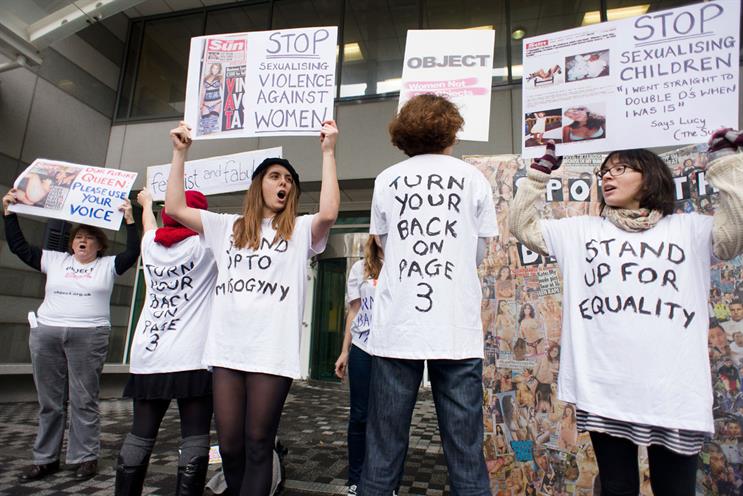 The backlash against sex­ual imagery in the media is gathering steam as feminists and child-protection experts make common cause with conservatives, religious groups and, yes, the Daily Mail to decry what they see as degrading attitudes to women.
From the Prime Minister's online porn clampdown, announced last week, to the continuing campaigns against lads' mags and The Sun's Page 3 models, UK media is on notice that the gratuitous use of raunchy images is becoming unacceptable.
David Cameron's plan for ISPs to automatically activate filters, which users would have to turn off to access porn, sounds to many people like a sensible balance between protecting children from inappropriate material and respecting adults' rights – and any move designed to tackle child sexual exploitation is widely applauded. But some worry that adult sexuality and child abuse are being deliberately lumped together to promote repressive and prudish attitudes to sex.
The issue is riven with contradictions. Cameron was somewhat at a loss last week to explain why The Sun's "tit pics" – widely seen by children across the country – are acceptable when online porn is not. However, his reply that buying the newspaper is a free consumer choice might have something to it. The Sun's circulation has fallen by 40 per cent over the past decade to 2.25 million, arguably a reflection of the growing distaste for a publication that uses breasts to promote itself.
Meanwhile, feminist campaigners such as UK Feminista and Object are turning their attention to lads' mags and their raunchy covers and content – which, they claim, make the retailers that stock them liable to legal action by customers and staff for sexual harassment.
It is vital in a free society that the individual is free to make a personal choice about the media they access
This is akin to kicking a man when he's down. Lads' mags are in steep decline and look ever more like the modern equivalent of saucy, end-of-the-pier postcards.
The circulation of Bauer's leader in the category, FHM, has plummeted by more than 80 per cent in the past 14 years, from a high of 775,000 in 1998 to 114,000 in December 2012.
The PPA cites Home Office-endorsed guidelines that state retailers should stock such magazines out of the eyeline of children and use "modesty boards" to shield raunchy covers if necessary.
A PPA spokesman adds: "It is vital in a free society that the individual is free to make a personal choice about the types of media they access." He points to the ParentPort website, where parents can voice any concerns.
For some, Cameron's opt-out porn filters seem like censorship. Anne McCreary, the head of digital strategy at Carat, says that she is concerned by any move by governments to control legal web content. She claims that sexual content is increasingly being shared online within small networks of friends, adding that tech­nology is also helping to change attitudes quickly and that respect for women generally is actually growing.
So, the momentum is clear, and media owners and advertisers had better take note. Whatever happens with porn, social attitudes are moving against the nonchalant use of raunchy images in the media.