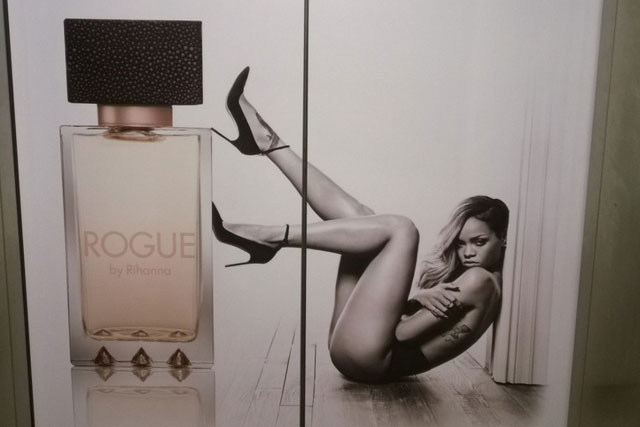 The regulator received one complaint about a poster for the Rogue perfume by Rihanna, which was displayed on the doors of lift in a shopping centre in Cardiff.
The complainant challenged whether the poster, which features a naked Rihanna sitting on the floor with her legs raised against a large bottle of perfume, was overly sexual and demeaning to women, and whether it was inappropriate for children.
The ad was by Gravité Creative, a branding and marketing company, which specialises in brands for artists, for Parlux, which is based in New York.
Parlux told the regulator that Rihanna was "known for her provocative songs and persona", which the ad tried to capture without featuring improper or demeaning imagery.
The company added that it believed the majority of women would not be offended by the image because it depicted Rihanna in a position of power, and they said, it "reflected the advertising norms" of the perfume industry.
The regulator said that, while Rihanna was naked in the poster and one of her buttocks was visible, the image was not "overtly sexual" and her facial expression was one of "defiance rather than vulnerability".
The ASA ruled that the poster was unlikely to be demeaning to women and did not breach its guidelines on harm and offence.
However, as the ad had not been given a placement restriction it had appeared in a number of places where it was likely to be seen by children.
Although the ad was not overtly sexual, the regulator said it was provocative and "sexually suggestive" and so should have been given a placement restriction to reduce the chance it would be seen by children.
The ASA ruled that the poster must not appear again without a placement restriction.