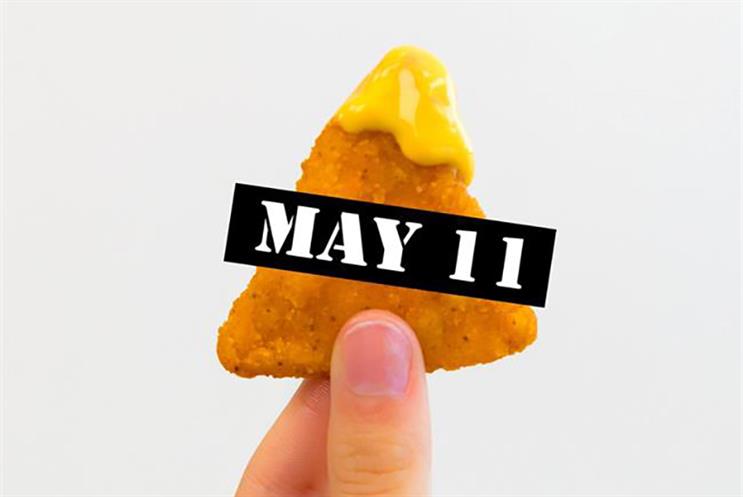 With Cinco de Mayo and Star Wars Day last week, food brands saw the most love on social media. Taco Bell plugged an upcoming item, Arby's referenced a video game, Pillsbury shared a receipe for Cinco de Mayo, Whataburger corrected a fake post and Jameson shared a Star Wars Day #MayTheForceBeWithYou post.
Unmetric, a social-media intelligence firm, uses an analytics platform to track brands with the highest amount of engagement for posts.
These are the brand posts that received the most shares of last week:
Taco Bell
In a post that received 41,579 shares, Taco Bell introduced a new menu item coming on May 11--Naked Chicken Chips. As the name implies, they are chips made out of fried chicken. The post also generated more than 45,000 reactions and 29,000 comments.
However, not all commenters were fans of the new chicken chips. Some pointed out that there the chips are much too similar to chicken nuggets. One commenter critiqued the brand's amrketing department: "Your marketing department is a bunch of hacks. A taco burrito? Now a chicken nugget you are trying to pass off as a new kind of chip. You need to clean house in that department." But Taco Bell shot back with its own remark: "Let us know when you have dipped a chicken nugget in nacho cheese sauce. We will be here waiting."
---
Arby's
On Star Wars Day, Arby's made a reference to a character from Overwatch, a shooter video game in a post that brought in 22,420 shares, 63,000 reactions and 6,100 comments. While a majority of commenters appreciated the allusion, some expected the brand to create a post around Star Wars. Arby's, however, purposefully tries to speak to an audience that isn't mainstream.
---
Pillsbury
In a post that saw 20,789 shares, Pillsbury participated in Cinco de Mayo by showing viewers how to make Sopapilla Chessecake Bars in a 48-second hyperlapse video. The brand included a link to the receipe online. The Facebook post garnered 814,106 video views, 9,000 reactions and 576 comments.
---
Whataburger
Unlike the other brands on this list, Whataburger had to correct a fake Facebook post that people were beliving on the platform. The post promoted a hoax called "Dollar Burger Day." Last weekm Whataburger reposted it, writing "Fake" in red block letters and "we are sorry for the confusion." That received 10,741 shares, 6,900 reactions and 2,500 comments. The brand's attempt at clarification backfired. Commenters wrote that the brand should consider hosting such a day. One wrote, "I knew it was fake but maybe for once you can actually reward your loyal customer's and treat them to a dollar day."
---
Jameson
Jameson got in on Stars Wars Day and made a video showing a man at a bar using the force to pour himself some whiskey with the text reading, "Here's a sneak peek at Episode VII: The Last Call." Of course, accompanying the post is the hashtag #MayTheFourthBeWithYou. The post generated 6,103 shares, 348,486 video views, 9,400 reactions and 857 comments.