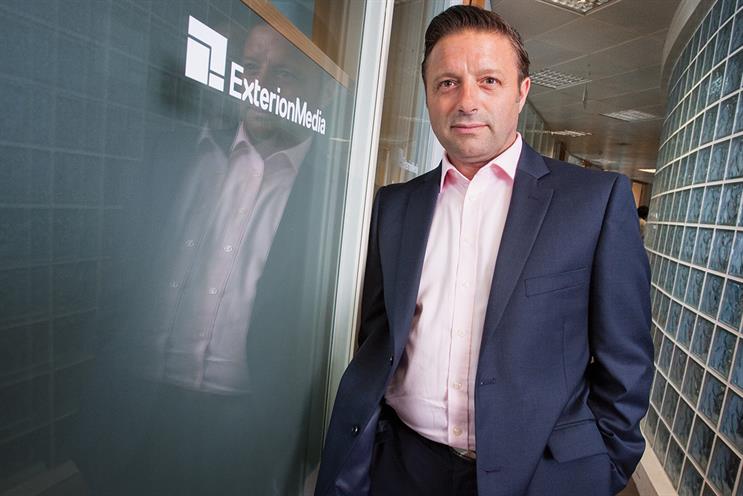 It says a lot about Shaun Gregory as a leader that when Transport for London called him just after 4pm last Thursday to say Exterion Media had beaten JCDecaux to the £1.1 billion Tube deal, he ensured his staff heard the news before any external announcement or leak.
Gregory, who was huddled with a few lieutenants in Exterion's offices overlooking Camden Lock to await TfL's call, had arranged to send a text message to every member of staff. Regardless of whether the company had won or lost the most valuable out-of-home ad sales contract in the world.
"It reflects the kind of company we're building that we wanted our people to know first," Gregory says, talking about openness and culture in an office where even the lift entrance is painted like Tube carriage doors in homage to Exterion's top client.
Some say Exterion, which is owned by Platinum Equity, had it easy as the incumbent. But the team was up against JCDecaux, the world's biggest outdoor media company, which won TfL's bus-shelter contract last year.
"A lot of people in the industry had written us off, which reflects the fact the business that was acquired by Platinum was not in great health," Gregory adds, looking back to the days when Exterion was known as CBS Outdoor. "I saw it differently. I saw a business with a great opportunity, a business that was ripe for transformation, a sector that was ripe for transformation."
Exterion has retained TfL, he says, thanks to its "laser focus" on "fantastic consumer experiences" and because it has shown that it can make better use of technology, connectivity and data. It is partly why he describes Exterion as a media, not an outdoor, company – noting how it introduced Bluetooth-connected beacons and Wi-Fi on 500 London buses last year.
The new Tube deal has been expanded to include the London Overground, the Docklands Light Railway and Crossrail. The current contract is estimated to be worth £150 million a year – more than 15 per cent of UK outdoor. The new eight-year deal could hit £250-300 million annually as digital screens and London's expanding population push up revenues.
Exterion and TfL will share the revenue, with TfL banking on getting £1.1 billion over eight years. The partnership is projected to generate close to £2 billion in ad sales.
Sheffield-born Gregory, the son of a builder and a nurse, comes across as down to earth. In a sign of his disciplined approach, his team visited all 347 of TfL's stations and, when the team worked through the night on the bid, he joined them.
Gregory is proud of winning but says: "It's a moment for the [outdoor] sector rather than for me. We have the opportunity to truly transform the sector." That means digitising more of TfL's estate, introducing more connectivity via Wi-Fi and beacons, and making "more intelligent" use of data. "In three to five years' time, the medium has the ability to unlock consumer revenues as well as ad revenues," he says.
Cultural change is high on the agenda too. Gregory arrived at Exterion from Telefónica with little outdoor experience and found the industry "introspective" and "conservative". It is why he has been keen to recruit staff from outside the sector.
Marc Mendoza, the chairman of Posterscope, is impressed: "He's honourable, he's enthusiastic, he understands the market and its digital future, and he has largely been the architect of its winning bid."
Gregory made his name at Emap, where he spent 14 years, rising to UK managing director during its heyday. "It was a very open, dynamic, energised company, driven with enthusiasm from the top,"he says, noting it produced a string of future media leaders. "Interestingly, they didn't pay well. But I had the best time."
He would like some of that magic at Exterion, where staff get free breakfasts and other perks. But he believes the corporate shift must go deeper. It should be about, as he says: "How open are you as a business? Do people want to do business with you?"
Gregory, who is "absolutely" committed to Exterion for the foreseeable future, won't discuss speculation about whether Platinum might take over a rival to create a serious number two to JCDecaux: "That's a question for the shareholder." But he adds: "I think you'll see consolidation in the sector. Two years ago, I said 2016 will be the year when we see consolidation. It makes sense for consumers. It makes sense for advertisers. It's a natural evolution for the next phase of the medium."
A fitness enthusiast, Gregory likes to run most mornings – even in the gym at Gatwick before a flight: "I can't function otherwise. I rely on it to clear my head." And there's a sense that, if he has his way, it will be a marathon, not a sprint, as he talks about how Exterion has "momentum".
"The financial turnaround has been huge. I can't disclose the figures but it's safe to say we're the fastest-growing business within its sector," Gregory says. "We're the largest privately held out-of-home business in western Europe. I think we have the opportunity to build a very, very big business."