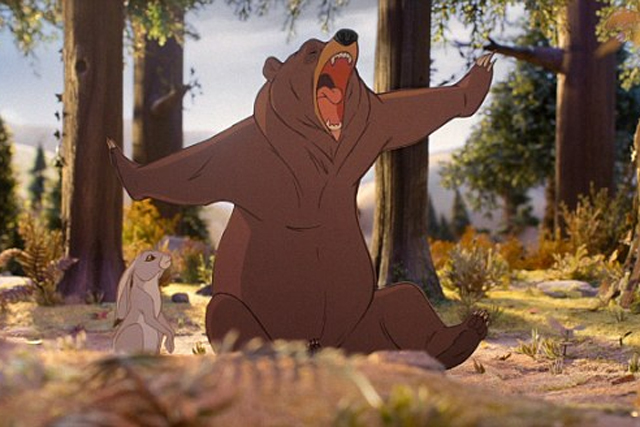 The song, which features in the "bear and hare" ad by Adam&EveDDB, topped a chart released to Campaign by Shazam, the app which allows people to identify a music track using acoustic fingerprinting technology.
Allen's tune was 'tagged' by UK Shazam users 115,500 times between January and November 2013.
Australian singer Ry X's song 'Berlin', which appeared in the Sony's "volcano" spot, followed in second place. The ad by McCann London received 92,889 tags.
Tesco takes three spots in the top ten. Two ads for its F&F clothing range, both created by Warl, featured songs from Ben Pearce and Aluna George and made the list. The supermarket's Christmas ad, "a family christmas" by Wieden & Kennedy also placed at number nine, through people tagging its soundtrack of Rod Stewart's cover of Bob Dylan's 'Forever Young'.
The top ten also included ads from Talk Talk, Three, IKEA and Jaguar.
---
TOP 10 ADS TAGGED ON SHAZAM IN 2013

1. John Lewis "the bear and the hare" by Adam&EveDDB (115,500 tags)
Song: Lily Allen - Somewhere Only We Know
2. Sony "volcano" by McCann London (92,889 tags)
Song: Ry X – Berlin
3. Sony "the best of sony for the best of you"
by adam&eveDDB (81,378 tags)
Song: Lucy Rose - Moving On Up
4. Talk Talk "date night" by CHI & Partners (70,576 tags)
Song: Starship - Nothing Gonna Stop Us Now
5. Tesco F&F "autumn/winter 2013" by Warl (70,000 tags)
Song: Ben Pearce - What I Might Do
6. Three "the pony" by Wieden + Kennedy
(61,110 tags)
Song: Fleetwood Mac - Everywhere
7. Tesco F&F "summer 2013" by Warl (60,000)
Song: Aluna George - You Know You Like It
8. Ikea "playin' with my friends" by Mother (51,238 tags)
Song: Masters in France - Playin' With My Friends
9. Tesco "a family christmas" by Widen & Kennedy (41,970 tags)
Song: Rod Stewart – Forever Young
10. Jaguar "your turn" by Spark44 (36,589 tags)
Song: Lana Del Rey - Burning Desire
(Source: Shazam data 1 January - 30 November 2013)
---
James Murphy, chief executive of Adam&EveDDB which created the John Lewis ad, said: "Music is probably the most subjective creative element in advertising. The words are important and the images are crucial, but music is on a higher scale than all of those. If you analyse the comments under ads on YouTube, a huge amount of the conversation is around what the song in an ad is."
He added that digital tools such as Shazam were encouraging music stars to work with advertisers.
Murphy said: "Artists are enthusiastic about demo-ing tracks on high-profile campaigns, because their management companies understand there is a large market in people seeing things on television and then 'Shazamming' them or looking them up online."
More than 400 television ad campaigns were Shazam-enabled this year, meaning that users can tag an ad to access content such as competitions and videos on their phones. The figures include ads that were not Shazam-enabled.
Shazam's acoustic fingerprint technology can recognise when a song is scanned from an ad on TV or online, rather then when it is played on the radio.
Songs from ads were still far behind the most-tagged song in the UK overall, which was Avicii's 'Wake Me Up' with 813,380 tags.